FORSUN 1000W fiber laser cutting machine adopts gantry structure, aluminum alloy beam, imported grinding gear frame, imported high-precision linear guide drive system, professional laser cutting CNC system, and high-performance servo motor. It is a high-tech product that integrates advanced technologies such as laser technology, precision machinery, and numerical control technology.
FORSUN 1KW fiber laser cutter is the most popular power and bestseller series. This machine is a classic model, widely used in daily life, such as stainless steel kitchen utensils, storage cabinets, and other cabinet processing, closely related to people's daily life. Used for cutting various metal plates and pipes (adding pipe cutting device), mainly used for stainless steel, carbon steel, galvanized plate, electrolytic plate, brass, aluminum, various alloy plates, rare metals, and other metal materials.
We provide a variety of power metal sheet fiber laser cutting machines, such as 1000W, 1500W, 2000W, 3000W, 6000W, 8000W, 12000W, and 20000W laser power options to meet your needs.
What is The Best CNC Fiber Laser Cutter for My Business?
Machine Configuration
1) Working area: 1500*3000*120mm (X,Y,Z-axis)
2) Solid steel frame construction
3) 1kw Max Laser Source
4) 1kw Fuji servo motors and drivers
5) Honeycomb Aviation aluminum gantry
6) Taiwan PMI Linear Guide
7) Raytools Laser Cutting Head
8) Japan Shimpo Reducer
9) Schneider Electrical Components
10) Water Chiller 3KW
11) 5 axis machining center drilling holes on the machine body
12) Plywood case package
13) Cypcut Fiber cutting software
14) Herion Gear Transmission
15) ATC Oil Lubrication
16) Wireless Handle Controller
Product Advantages of 1kw fiber laser machine:
The design screen has a vertical screen display, different from the traditional horizontal screen display with good response speed, higher contrast, wider view, low power consumption as well as high resolution.
Professional cutting software CypCut, supports DXF, PLT, LXD, and other graphic data formats, supports commonly used editing and typesetting functions, automatically distinguishes between internal and external modes, saving time and effort, automatic typesetting, supports multiple edges finding methods, precise positioning, and unique processing sequence Browse function, set cutting path with one key, make processing more efficient.
Max fiber laser generator
Max fiber laser generator, based on a modular design, has good beam quality, high stability, compact structure, and water cooling. The laser can be adjusted continuously, and the beam is transmitted through the optical fiber and QBH connector, which is very suitable for laser cutting, laser welding, etc. The laser is very suitable for system integration with robots or machine tools and is widely used in laser cutting, welding, 3D printing, electronics, auto parts, aerospace, and other fields.

The water chiller has a high and low-temperature control system that can simultaneously cool the fiber laser and QBH crystal optics, saving cost and space.
Swiss Raytools brand autofocus cutting head, suitable for medium and high power fiber lasers in industrial applications. The imported closed-loop motor is used to perforate and cut various material thicknesses at high speed. Automatically find the best focus without manual focus, which is more efficient.
Machine Details Display of 1kw Fiber Laser Cutter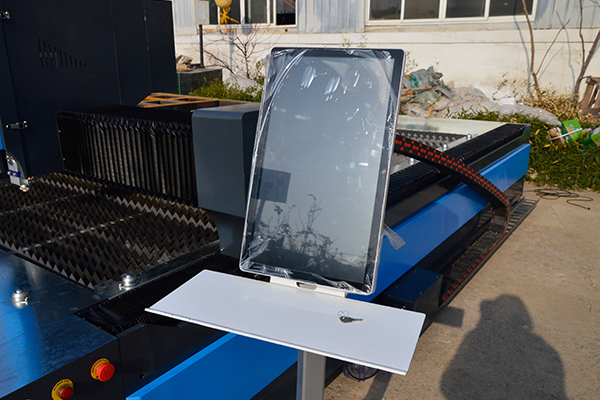 Cypcut Controller System

Application Industries&Materials of Fiber Laser Cutting Machine
Applicable Industry:
1000W fiber metal laser cutting machine is used in sheet metal processing, aviation, aerospace, electronics, electrical appliances, subway accessories, automobiles, machinery, precision accessories, ships, metallurgical equipment, elevators, kitchenware, household appliances, gifts, tool processing, decoration, advertising, metal processing, and other manufacturing and processing industries.
Applicable Materials:
1KW CNC fiber laser cutting machine is mainly used for fast cutting of sheet metal cutting, pipes (pipe cutting device is required): fast cutting of stainless steel, carbon steel, galvanized sheet, electrolytic plate, brass, aluminum steel, manganese, various alloy plates, and other metal materials.
Sample Display of Fiber Laser Machine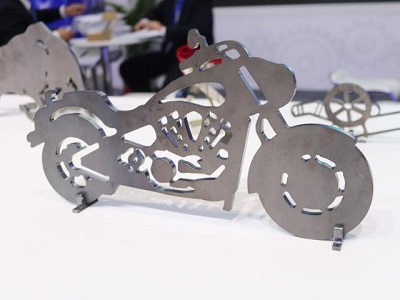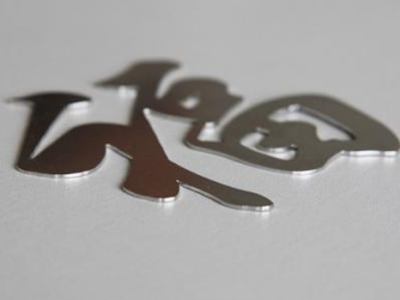 Specification of 1kw Fiber laser Cutter
| | |
| --- | --- |
| Device model | FS-3015L |
| Laser type | Fiber Laser Cutter |
| Laser working medium | Fiber |
| Laser wavelength | 1060-1080nm |
| Rated output power | 1000w |
| X-axis travel | 1500mm |
| Y-axis travel | 3000mm |
| Z-axis travel | 120mm |
| Effective cutting range of flat plate | 1500*3000mm |
| positioning accuracy | ±0.02mm/m |
| Repeatability | ±0.02mm/m |
| Maximum empty travel speed | 100m/min |
| Power rating | 380V 50Hz |
| Equipment power | 11.25kw |
| Weight | 4500kg |
Cutting Speed
500W
1000w
1500W
2000W
3000W
Material
Thickness
Gas
Cutting Speed(m/min)
Cutting Speed(m/min)
Cutting Speed(m/min)
Cutting Speed(m/min)
Cutting Speed(m/min)
Carbon Steel
1
O2
7.0–9.0
8.0–10
15–26
24–30
30–40
2
3.0–4.5
4.0–6.5
4.5–6.5
4.7–6.5
4.8–7.5
3
1.8–3.0
2.4–3.0
2.6–4.0
3.0–4.8
3.3–5.0
4
1.3–1.5
2.0–2.4
2.5–3.0
2.8–3.5
3.0–4.2
5
0.9–1.1
1.5–2.0
2.0–2.5
2.2–3.0
2.6–3.5
6
1.4–1.6
1.6–2.2
1.8–2.6
2.3–3.2
8
0.8–1.2
1.0–1.4
1.2–1.8
1.8–2.6
10
0.6–1.0
0.8–1.1
1.1–1.3
1.2–2.0
12
0.5–0.8
0.7–1.0
0.9–1.2
1.0-1.6
14
0.5–0.7
0.7–0.8
0.9–1.4
16
0.6–0.7
0.7–1.0
18
0.4–0.6
0.6–0.8
20
0.5–0.8
22
0.3–0.7
Stainless Steel
1
N2
8.0–13
18-25
20–27
24-30
30–35
2
2.4–5.0
5-7.5
8.0–12
9.0–12
13–21
3
0.6–0.8
1.8–2.5
3.0–5.0
4.0–6.5
6.0-10
4
1.2–1.3
1.5–2.4
3.0–4.2
4.0–6.0
5
0.6–0.7
0.7-1.3
1.8-2.5
3.0–5.0
6
0.7–1.0
1.2-1.8
2.0–4.0
8
0.7-1.0
1.5–2.0
10
0.6–0.8
12
0.4–0.6
Aluminum/brass
1
N2
4.0–5.5
6.0-10
10–20
15-25
25–38
2
0.7–1.2
2.8-3.6
5.0–7.0
7–10
10–18
3
0.7–1.5
2.0–4.0
4.0-6.0
6.5–8.0
4
1.0–1.5
2.0-3.0
3.5–5.0
5
0.7–1.0
1.2-1.8
2.5–3.5
6
0.7-1.0
1.5–2.5
8
0.6-0.8
0.7–1.0