In response to the actual needs of the sheet metal processing industry, FORSUN CNC has developed a high-speed, high-efficiency sheet plate fiber laser machine, using a more economical 1000w laser source, allowing fiber laser cutting technology to benefit more users. As a classic model, this 1000w metal sheet fiber laser cutting machine is widely used in daily life, such as the processing of stainless steel kitchen utensils, storage cabinets, and other cabinets. It is used to cut various metal plates, mainly used for stainless steel, carbon steel, and plating. Metal materials such as zinc plate, electrolytic plate, brass, aluminum, various alloy plates, and rare metals.
We provide a variety of power metal sheet fiber laser cutting machines, such as 1000W, 1500W, 2000W, 3000W, 6000W, 8000W, 12000W, and 20000W laser power options to meet your needs.
What is The Best CNC Fiber Laser Cutter for My Business?
Work video:
Product Advantages of fiber laser machine:
Using the Japanese YASKAWA servo motor and gear system to ensure accurate cutting, high-quality cutting can be achieved without additional finishing, almost any metal sheet can be cut. Professional control system/nesting software, advanced functions, easy to learn, more flexible and efficient processing.
Active Anti-collision Function
Effectively reduce the damage rate of laser heads, help you save maintenance costs.
No Quiver when Cutting Thin Sheet
The fiber laser machine is capable of cutting edges of thin sheets and ensures no quivering marks.
Welded Bed with Mortise-and-tenon Joint
Each frame of the bed is welded after mortise-and-tenon joint to achieve better stability and firmness.
Automatic centralized lubrication function
Traditional parts are automatically lubricated by the system control. No manual intervention is required to ensure the accuracy and service life of moving parts
Autofocus laser cutting head
No manual focus required: The software automatically adjusts the focus lens to realize automatic perforation and cutting of plates of different thicknesses. The speed of the automatic focusing lens is ten times that of manual focusing.
Larger adjustment range: The adjustment range is -10mm~+10mm, the precision is 0.01mm, and it is suitable for different types of plates of 0~20mm.
Long-lasting: Both the collimating lens and the focusing lens are equipped with water-cooled heat sinks, which can reduce the temperature of the cutting head and increase the service life of the cutting head.

Machine Pictures of Fiber Laser Cutter
Max Laser Generator
Automatic optimization of imported graphics: When importing external files, the original image will be automatically optimized
Concise and clear process settings: After importing the graphics, you can quickly set the lead, micro-connection, compensation, and other processes, and with the batch modification function, you can quickly complete the entire board process setting.
Flexible processing control bar: supports floating coordinate system and workpiece coordinate system, which can not only meet the requirements of flexible production but also facilitate mass production.
Abundant local statistics: It can provide abundant and timely statistics on the usage of machine tools.
Accurate edge seeking assistance: supports photoelectric edge seeking and capacitive edge seeking, and quickly corrects the deviation angle of the sheet.
Dual-drive deviation self-correction: using the gantry synchronization function, the deviation of the dual-drive shaft will be corrected every time you return to the origin.
Optimized optical configuration, smooth and efficient airflow design.
Comprehensive upgrade of the dust-proof design, double protection, and no contamination of the lens.
The laser head body is increased anti-collision function.
Turntable focus adjustment, manually corrected, flexible adjustment. The adjustable range is 20mm(±0.05mm).
A variety of optical interfaces, suitable for many kinds of fiber lasers.
Max fiber laser generator
Max fiber laser generator, based on a modular design, has good beam quality, high stability, compact structure, and water cooling. The laser can be adjusted continuously, and the beam is transmitted through the optical fiber and QBH connector, which is very suitable for laser cutting, laser welding, etc. The laser is very suitable for system integration with robots or machine tools and is widely used in laser cutting, welding, 3D printing, electronics, auto parts, aerospace, and other fields.

Application Industries&Materials:
Application industries: metal cutting, electrical switch manufacturing, aerospace, food machinery, textile machinery, engineering machinery, locomotive manufacturing, agricultural and forestry machinery, elevator manufacturing, special automobiles, household appliances manufacturing, tool processing, IT manufacturing, petroleum machinery manufacturing, food machinery, Diamond tool welding, gear welding, metal material surface treatment, decorative advertising, laser external processing services and other machinery manufacturing and processing industries.
Applicable materials: professionally used to cut a variety of medium and thin metal plates, high-quality cutting carbon steel plates, and Especially for carbon steel, stainless steel, galvanized steel, alloy, titanium, aluminum, brass, copper, etc
Sample Presentation of sheet plate fiber laser machine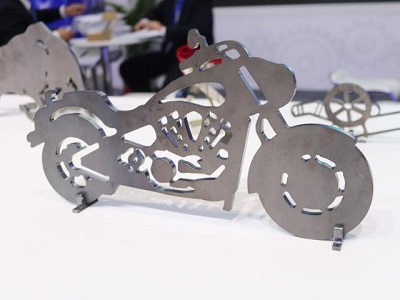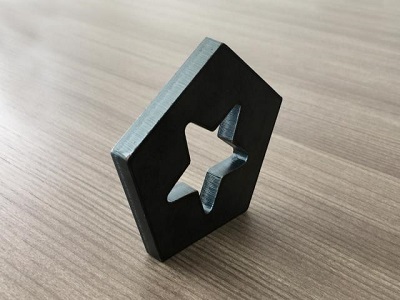 Specification of sheet plate fiber laser machine
| | |
| --- | --- |
| Device model | FS-3015L |
| Laser type | Fiber Laser Cutter |
| Laser working medium | Fiber |
| Laser wavelength | 1060-1080nm |
| Rated output power | 1000w |
| X-axis travel | 1500mm |
| Y-axis travel | 3000mm |
| Z-axis travel | 200mm |
| Effective cutting range of flat plate | 1500*3000mm |
| positioning accuracy | ±0.02mm/m |
| Repeatability | ±0.02mm/m |
| Maximum empty travel speed | 100m/min |
| Power rating | 380V 50Hz |
| Equipment power | 11.25kw |
| Weight | 4500kg |
Cutting Speed
500W
1000w
1500W
2000W
3000W
Material
Thickness
Gas
Cutting Speed(m/min)
Cutting Speed(m/min)
Cutting Speed(m/min)
Cutting Speed(m/min)
Cutting Speed(m/min)
Carbon Steel
1
O2
7.0–9.0
8.0–10
15–26
24–30
30–40
2
3.0–4.5
4.0–6.5
4.5–6.5
4.7–6.5
4.8–7.5
3
1.8–3.0
2.4–3.0
2.6–4.0
3.0–4.8
3.3–5.0
4
1.3–1.5
2.0–2.4
2.5–3.0
2.8–3.5
3.0–4.2
5
0.9–1.1
1.5–2.0
2.0–2.5
2.2–3.0
2.6–3.5
6
1.4–1.6
1.6–2.2
1.8–2.6
2.3–3.2
8
0.8–1.2
1.0–1.4
1.2–1.8
1.8–2.6
10
0.6–1.0
0.8–1.1
1.1–1.3
1.2–2.0
12
0.5–0.8
0.7–1.0
0.9–1.2
1.0-1.6
14
0.5–0.7
0.7–0.8
0.9–1.4
16
0.6–0.7
0.7–1.0
18
0.4–0.6
0.6–0.8
20
0.5–0.8
22
0.3–0.7
Stainless Steel
1
N2
8.0–13
18-25
20–27
24-30
30–35
2
2.4–5.0
5-7.5
8.0–12
9.0–12
13–21
3
0.6–0.8
1.8–2.5
3.0–5.0
4.0–6.5
6.0-10
4
1.2–1.3
1.5–2.4
3.0–4.2
4.0–6.0
5
0.6–0.7
0.7-1.3
1.8-2.5
3.0–5.0
6
0.7–1.0
1.2-1.8
2.0–4.0
8
0.7-1.0
1.5–2.0
10
0.6–0.8
12
0.4–0.6
Aluminum/brass
1
N2
4.0–5.5
6.0-10
10–20
15-25
25–38
2
0.7–1.2
2.8-3.6
5.0–7.0
7–10
10–18
3
0.7–1.5
2.0–4.0
4.0-6.0
6.5–8.0
4
1.0–1.5
2.0-3.0
3.5–5.0
5
0.7–1.0
1.2-1.8
2.5–3.5
6
0.7-1.0
1.5–2.5
8
0.6-0.8
0.7–1.0

FAQ:
Q: How to get the most suitable fiber laser cutting machine and the best price?
A: Please tell me the material you want to work on?
How to working on it? Engraving? Cutting? Or other?
What's the MAX size of this material? ( length? Width? Thickness ?)
Q: This is the first time I use this kind of machine, is it easy to operate?
A: There is an English manual or guide video that shows you how to use a machine.
If you still have any questions, please contact us by e-mail/skype/ phone /trade manager online service.
Q: Quality Control:
A: The whole production procedure will be under regular inspection and strict quality control. The complete machine will be tested to make sure it can work very well before being out of the factory. The testing video and pictures will be available before delivery.
Q: How about your after-sales service?
A: After-sales service: We offer you 24 hours service phone, skype, or WhatsApp, our engineer also can go to door install or training.