What's this Automatic Tool Change CNC Router with Boring Head?
Automatic Tool Change CNC router machine simply to say ATC CNC Router. An Automatic tool changer or ATC is used in computerized numerical control (CNC) machine tools to improve the production and tool carrying capacity of the machine. ATC changes the tool very quickly, reducing the non-productive time. Generally, it is used to improve the capacity of the machine to work with a number of tools. It is also used to change worn out or broken tools. It is one more step towards complete automation.It adopts an automatic tool changer spindle with an auto tool magazine with 8 or 10 cutters, the tools can automatically change to fit different working processes. The automatic tool magazine can be a carousel type of linear type. An ATC CNC Router automatically changes cutters between tool paths and eliminates the need for the CNC operator to change and zero tools individually. The ATC Wood Router allows customers to do the full job, even when different tooling is required to make different types of cuts – like cabinets and furniture – or where different bits are needed for roughing and finishing passes – like signs and complex 3D carvings. With an ATC can perform operations normally done on other pieces of equipment, eliminating the need for additional machines in the shop. Save CNC Router Machine cost and labor cost from the very beginning. ATC CNC Wood Router is suitable for wood, MDF, plywood, PVC, Acyclic, Aluminum engraving, cutting and milling.
What's the boring head and why we choose it? A boring head also can be stated drilling block. There are many types of drilling blocks, 9 pcs vertical heads, 4 horizontal drilling heads and 9 vertical heads. Normally, We install 9 heads drilling block on our ATC Woodworking Wood Engraving cutting CNC ROUTER. If you buy CNC Wood Router for wood panel and normal nested based cabinet parts process and you have mass production volume, a drilling block worth you to buy. The drilling block on the Wood Router can save time and reduce material handling requirements. It is one cost-effective choice. Our CNC Router machine has a 9 head vertical drilling block and sometimes I wish it was double. The drilling operations take longer than the cutting. For reference, we nest our drawer parts (3/4 mel) with the case parts and we're drilling for dowels. Also, we're drilling for confirmations and 20mm drawer front adjusters. That's 4 drill sizes, so we go with 6-5mm, 1 each 7, 8 and 20mm drills.
Your production capacity will double if you choose our ATC CNC Router with a boring head.
What is The Best CNC Router for My Business?
Working Video of ATC Wood Carving CNC Router with Boring Head
Features of ATC CNC Wood Cutting Machine with Drilling Block
12HP Air Cooling ATC Spindle, ISO30, ER32.
Syntec Controller which is a professional for Wood CNC Router with more than 20-year experience, is easy to learn and operate.
Drive system: 4 Sets AC Servo drivers and 1000W motors for X, Y, and Z-Axis.
Shimpo Gearbox, much more durable and accurate.
Helical Rack and Pinion for the X and Y axis to ensure the power transmission.
High Accuracy ball screw for Z-Axis.
Rigid Square Linear Guide for X, Y, and Z-Axis.
Working speed around 25000 mm/min max.
Traverse speed of rapid feed: max. 60.000 mm/min
Automatic lubrication system for Linear Guide and ball screw lubrication timely. Thus make sure the CNC Router Machine works smoothly and properly and prolongs the CNC Wood Router life.
Reference- and limit switch on all axes
Double safety emergency stop button
Energy chain for clean cabling
Milling Motor anchorage: Euro neck Ø43mm
Compatible with various CAM design software that can output G code or M Code.
Modular frame for universal application
Automatical Tool Change function with 12 Pcs tool magazines. Tool Change time can be within 8 seconds.
Vacuum table in Zones and a powerful vacuum pump to absorb the working piece firmly.
Dust Collect System with 3.0KW Dust Collector with 2 bags.
Automatic Tool Sensor.
Professional Cables and Chains for Wood CNC Router.
HSD boring block with 9 pcs vertical drill bits.
C Axis is available
Aggregate is available
Safety laser curtain to protect the workers
Available in 4'x4', 4'x8',5×10', 5'x12′ and Custom Sizes

Applications
Cabinets and Furniture.

Sign Making and Carving

Musical Instruments

Plastic and Foam

Marble and Stone Engraving

Prototyping and 3D modeling

Metal Fabrication and Steel Applications

Exhibits and Scene / Prop Shops

Architectural Millwork

Aluminum and Brass Machining

Suitable Materials:
Wood: Solid wood, MDF, Plywood, Chipboard.

Plastic: PVC, ABS, Acrylic, Plastic.

Marble: Artificial Stone, Marble, Granite, Ceramic,

Sign Material: Foam, Cupboard, Styrofoam, Leather, Plastic carpet, corrugated paper,

Metal: Steel, Metal, Stainless, Pipe, tube, Corrugated metals, expanded metal, or flat sheet stock.

Soft Metal: Aluminum, Brass,

Composite: Aluminum Composite, Copper Composite, Titanium Composite, Zinc Composite.

Technical Data:
| | |
| --- | --- |
| Model Name | ATC CNC Router FS1313ATC with a boring head |
| X, Y-Axis Travel | 1300*1300mm,Option:2000X3000mm. 1300X2500mm(4X8ft),  1500X3000mm(5X10ft),   2000X4000mm |
| Z-Axis Travel | 200mm, Option: 300mm,400mm,500mm,600mm |
| Spindle Power | 9.0KW ATC Spindle with 24000RPM, ISO30, ER32 |
| Boring Head / Drilling Block | HSD 5+4 Vertical drill block |
| Tool Magazine | Linear type Auto tool changer magazine with 10 pcs positions. Option: Carousel Tool Magzine. |
| Motor for X, Y, and Z | AC Servo motor |
| Operating System | Syntec controller. Option:SIEMENS Controller,NC studio, DSP |
| Drive System X, Y and Z axis | Helical Rack and Pinion for X and Y-Axis,    High precision ball screw for the Z-axis. |
| Transmission X, Y and Z axis | HIWIN/THK Rail Linear guide and bearings. |
| Machine structure | Cast steel table structure and side support,   aluminum T-Plate Extrusion Combined vacuum table |
| Working Voltage | 220V/50HZ/60HZ,3PH   380V/50HZ/60HZ,3PH |
| Command Language | G Code & M Code |
| Collet | ISO30,φ4,φ6,1/8,1/9 |
| Lubrication | Automatic lubrication system |
| Tool Calibration | Automatic tool sensor |
| Dust collector system | 3.0KW Dust collector system with 2 bags |
| Max. Rapid Travel Speed | 80000mm/min |
| Max. working Speed | 45000/min |
| Repeatability | +/-0.04mm/300mm |
| Working Accuracy | +/-0.03mm/300mm |
| Other Names of the CNC Router | CNC Wood Router, CNC Router Machine, Router Machine, Wood CNC Machine, CNC Cutting Machine, CNC Wood Carving Machine, CNC Engraver, 3 axis CNC Router, Best CNC Router, CNC Router Price, Wood Router, Wood CNC Router, 3D CNC Router, Router CNC, Aluminum CNC Router. CNC Engraving Machine, CNC Milling Machine, CNC Drilling Machine, Best CNC Router, 4×8 CNC Router, Cheap CNC Router, CNC Carving Machine, China CNC Router, 3d Wood Carving Machine. |
| Machining Function | 2D Machining, 2.5D Machining, 3D Machining |
| Compatible Software | Type3, UcancCAM, ArtcCAM, AlphCAM, Vectric, Enroute, MasterCAM Cabinet Vision, etc |
| Gross Weight | 1800 KGS |
| Package Size | Plywood Package 3900*2250*2000mm |

Thicken weld tube machine frame for high performance and material processing.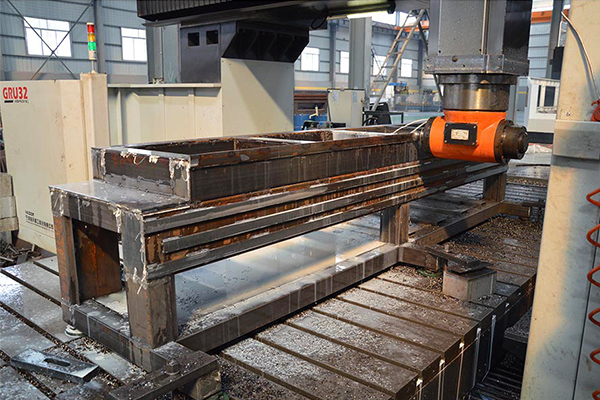 Heavy duty frame milling and drilling by machining center to keep high accuracy.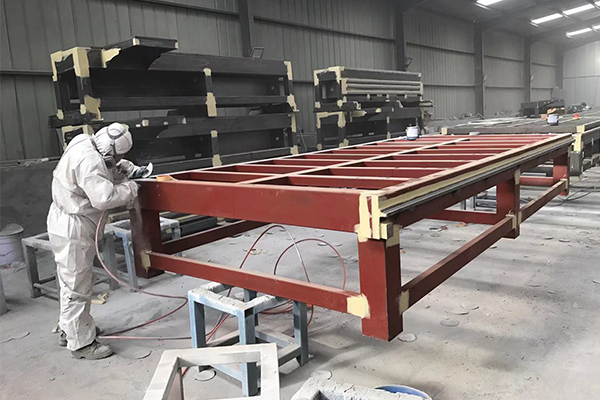 Sandy blasting putty and rusty cleaning before painting to prolong machine body use.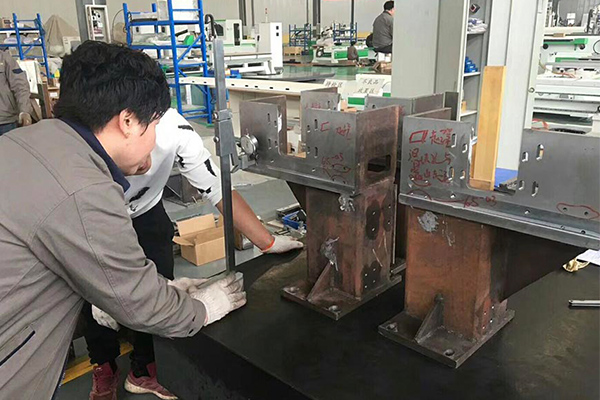 Material incoming inspection to make sure machine quality in the very beginning.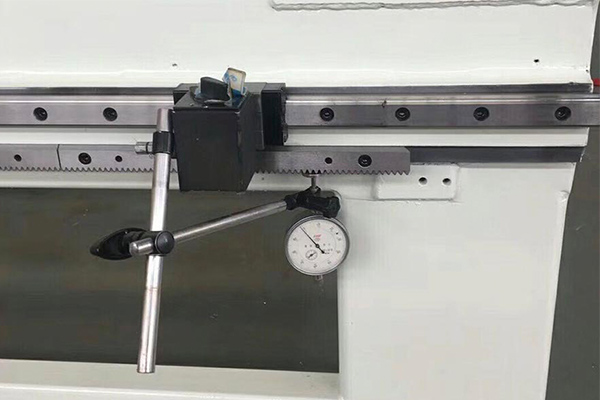 During the CNC Router installation process, precision instruments are used to ensure accuracy of the CNC Router Machine installation.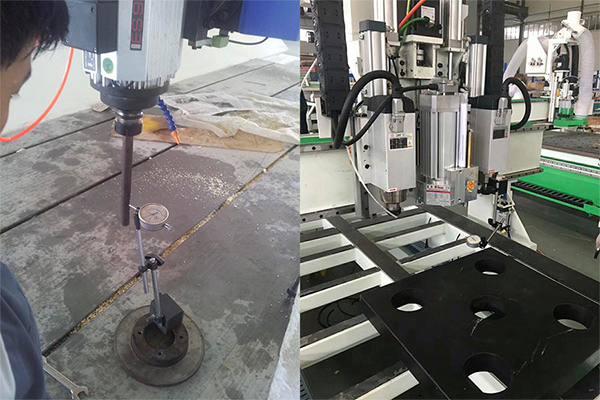 After the CNC Router is installed, use the testing instrument to test the Vertical accuracy, traveling accuracy, working accuracy, repeated positioning accuracy, etc.
Machine Pictures