2020 Hot Sale Automatic Tool Changer CNC Router FS1325ATC
New design and 2020 hot sale automatic tool changer wood CNC router machine with 4×8ft working size. We use humanity NC Studio controller and powerful servo system for this CNC Router.  Automatic Tool Changer (ATC) CNC Router reduces production time by automatically changing cutters between tool paths, thus eliminating the need for the CNC operator to change and zero tools individually. A FORSUN CNC Router equipped with an ATC can perform operations that would typically require several other pieces of equipment, eliminating the need for any additional machines in your shop.
The ATC CNC Router allows the operator to do the full job, such as cabinets and furniture – required to make different types of cuts or where different bits are needed for roughing and finishing passes – like signs and complex 3D carvings. The ATC CNC Router comes with a rigid gantry and linear rail system and Linear Type auto tool changer magazine with 10 tool positions, 12HP Air cooling ATC Spindle and 1000W AC Servo motors which ensures the high accuracy and fast cutting speed of the ATC CNC Router.
What is The Best CNC Router for My Business?
Working Video
Features & Benefits
CNC Router Machine body is very strong and never deformation after the process of whole welding, heat treatment, and high vibration. Meanwhile, sandblasting, rusty avoiding processing with 3 times out painting will make the CNC Routers pretty beautiful even after several years using. 11 procedures inspection before CNC milling machine delivery will guarantee the customer can use the router CNC once receive it.
The CNC Engraver is installed with a self-tensioning dual pinion drive, adjusts on-the-fly producing superior circle cutting, even years down the road. High precision anti-backlash balls crews for extremely smooth motion.
The CNC Engraving machine is configured with a linear type auto tool changer manager with 10 Pcs positions and that enables fast tool change time.
The intelligent Syntec control system for the CNC Engraver is with intelligent processing cross-border protection function and prevents the mechanical collision phenomenon caused by the design layout exceeding the processing range. Intelligent processing speed control of the CNC Router can control the processing speed separately and truly improve the processing efficiency,
This CNC Carving machine is with a file pre-processing function that helps users to correct errors in processing files in time. Thus the CNC Router is well compatible with the processing code generated by Type3, Artcam, Mastercam.
The CNC Router machine is a well-designed dust collector system with powerful suction. And keep the wood router working area clean during working time.
The smart vacuum table for this CNC Wood Router is ready for a wide array of vacuum pods-fixturing on a smart is fast and flexible.
The CNC Wood Carving Machine has the functions of breakpoint, power-off and continuous engraving. And this 3d wood carving machine also has the function of automatic error correction of the homing point which effectively guarantees the processing precision when working for a long time.

Configurations
NC Studio Controller, humanity PC Controller, you can see working. project simulation from the controller.
AC Servo motors with accuracy and resolution.
Vacuum table in zones can absorb small size working pieces.
Cutting speed can reach to 25m/min.
9.0KW Automatic tool changer spindle, ER32, ISO30, 24000RPM.
Helical Rack and Pinion transmission for three-axis.
PMI ball screw transmission for Z-axis.
Automatical lubrication system to keep CNC Router work smoothly.
Applications
Cabinets and Furniture.

Sign Making and Carving

Musical Instruments

Plastic and Foam

Marble and Stone Engraving

Prototyping and 3D modeling

Metal Fabrication and Steel Applications

Exhibits and Scene / Prop Shops

Architectural Millwork

Aluminum and Brass Machining
Suitable Materials:
Wood: Solid wood, MDF, Plywood, Chipboard.

Plastic: PVC, ABS, Acrylic, Plastic.

Marble: Artificial Stone, Marble, Granite, Ceramic,

Sign Material: Foam, Cupboard, Styrofoam, Leather, Plastic carpet, corrugated paper,

Metal: Steel, Metal, Stainless, Pipe, tube, Corrugated metals, expanded metal, or flat sheet stock.

Soft Metal: Aluminum, Brass,

Composite: Aluminum Composite, Copper Composite, Titanium Composite, Zinc Composite.

Why Choose Us?
Thicken weld tube machine frame for high performance and material processing.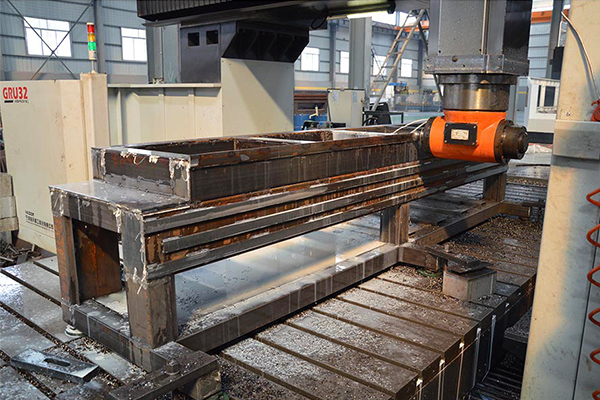 Heavy duty frame milling and drilling by machining center to keep high accuracy.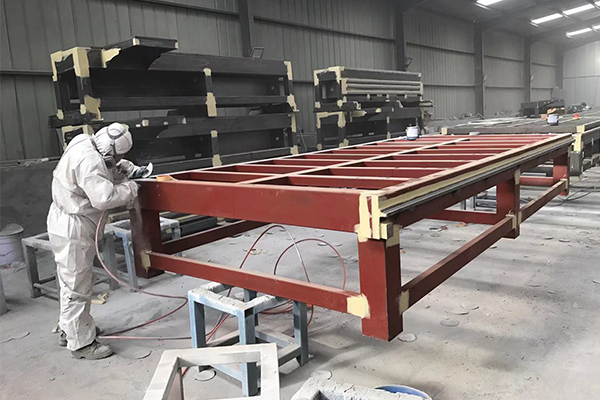 Sandy blasting putty and rusty cleaning before painting to prolong machine body use.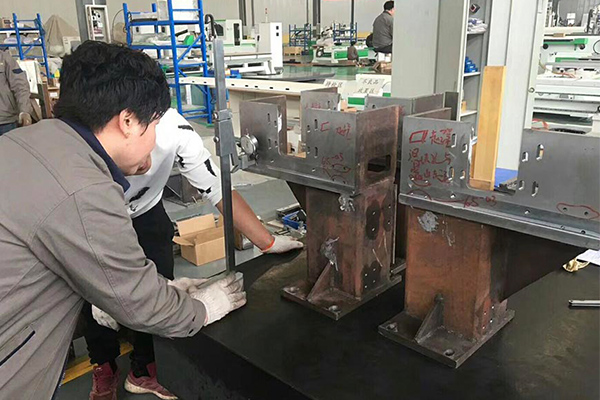 Material incoming inspection to make sure machine quality in the very beginning.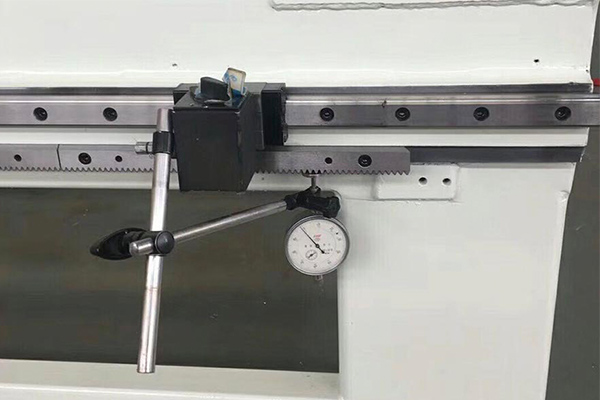 During the CNC Router installation process, precision instruments are used to ensure accuracy of the CNC Router Machine installation.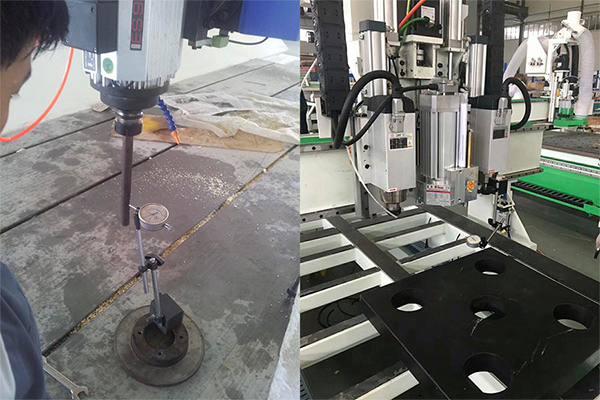 After the CNC Router is installed, use the testing instrument to test the Vertical accuracy, traveling accuracy, working accuracy, repeated positioning accuracy, etc.

Parameters Data
| | |
| --- | --- |
| Model Name | ATC CNC Router FS1325ATC (4×8ft) |
| X, Y-Axis Travel | 1300X2500mm(4X8ft), Option:2000X3000mm, 1500X3000mm(5X10ft),   2000X4000mm |
| Z-Axis Travel | 200mm, Option: 300mm,400mm,500mm,600mm |
| Spindle Power | 9.0KW ATC Spindle with 24000RPM, ISO30, ER32 |
| Tool Magazine | Linear type Auto tool changer magazine with 10 pcs positions. Option: Carousel Tool Magzine. |
| Motor for X, Y and Z | AC Servo motor |
| Operating System | NC studio. Option:Syntec controller,SIEMENS Controller, DSP |
| Drive System X, Y and Z axis | Helical Rack and Pinion for X and Y-Axis, High precision ball screw for Z axis. |
| Transmission X, Y and Z axis | HIWIN/THK Rail Linear guide and bearings. |
| Machine structure | Cast steel table structure and side support,   aluminum T-Plate Extrusion Combined vacuum table |
| Working Voltage | 220V/50HZ/60HZ,3PH   380V/50HZ/60HZ,3PH |
| Command Language | G Code & M Code |
| Collet | ISO30,φ4,φ6,1/8,1/9 |
| Lubrication | Automatic lubrication system |
| Tool Calibration | Automatic tool sensor |
| Dust collector system | 3.0KW Dust collector system with 2 bags |
| Max. Rapid Travel Speed | 80000mm/min |
| Max. working Speed | 45000/min |
| Repeatability | +/-0.04mm/300mm |
| Working Accuracy | +/-0.03mm/300mm |
| Other Names of the CNC Router | CNC Wood Router, CNC Router Machine, Router Machine, Wood CNC Machine, CNC Cutting Machine, CNC Wood Carving Machine, CNC Engraver, 3 axis CNC Router, Best CNC Router, CNC Router Price, Wood Router, Wood CNC Router, 3D CNC Router, Router CNC, Aluminum CNC Router. CNC Engraving Machine, CNC Milling Machine, CNC Drilling Machine, Best CNC Router, 4×8 CNC Router, Cheap CNC Router, CNC Carving Machine, China CNC Router, 3d Wood Carving Machine. |
| Machining Function | 2D Machining, 2.5D Machining, 3D Machining |
| Compatible Software | Type3, UcancCAM, ArtcCAM, AlphCAM, Vectric, Enroute, MasterCAM Cabinet Vision, etc |
| Gross Weight | 2500 KGS |
| Package Size | Plywood Package 4200*2250*1900mm |

Machine Pictures Gallery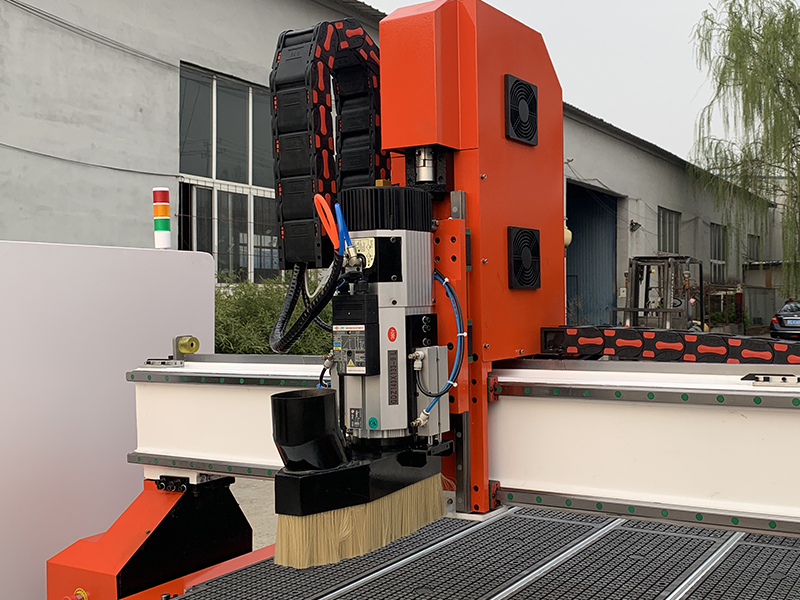 9.0KW Auto tool change spindle, powerful and high accuracy, ER32, ISO30, 24000RPM.
Linear Tool Magazine with 10 cutting positions, option 12 pcs.
PMI Linear Guide, rigid and high precision.
T-slot vacuum table can absorb very small piece material.
NC Wood Router with Pop up pins for location
Auto lubrication system for CNC Wood Cutting machine to keep the cnc router work smoothly.
Auto tool sensor for wood cnc router.
Rigid and robust CNC Router frame

Working Samples

Customer Feedback