Description of portable plasma cutting machine
Our portable plasma cutting machine enjoys a good reputation among customers due to its outstanding performance. Using it, you can greatly improve work efficiency and save labor costs. In addition, it has the advantages of easy movement, small footprint, lightweight, stable operation, and low maintenance cost. In addition, our machines are made of high-quality materials, which are rust-proof, wear-resistant, and have a long service life.
This portable metal plasma cutting machine can convert CAD files into computer files through USB flash drive transfer, so that various graphics can be cut, and can be programmed, and operated directly on the machine. Due to the compact design and appropriate size, our products can be placed anywhere to help free up space. Compared with general machines, our products are smaller but more reliable. There is no doubt that it will be the ideal equipment for carbon steel, copper, iron, aluminum, galvanized, titanium, and other metal plates.
The plasma portable cutting machine is mainly composed of guide rails, beams, control panels, CNC host, and other parts. It has a high degree of automation and is easy to operate. And the cutting is very precise, almost no secondary processing is required.
What is The Best CNC Plasma Cutter for My Business?
Work video:
Plasma Cutter Pictures Gallery
63A LGK Power Source
63A LGK power source can perforate and cut 0.5MM-30MM, and the edge can cut 40MM metal materials. It adopts air-cooling, water-cooling, and other cooling methods. It is equipped with an imported metal cutting torch as standard, which completely solves the problem of a burning torch. It comes with arc voltage adjustment, slit compensation, and an anti-collision system. It can work continuously for 24 hours.
Fang Ling Control System
Automatic arc voltage height control: During the cutting process, the height of the steel plate will be automatically tracked, and the cutting torch and steel plate will always be kept at a fixed height to ensure the cutting quality.
Intelligent adjustment of arc voltage: After multiple collisions, the set arc voltage will automatically increase.
Collision feedback: feedback the collision signal to the control system immediately after the collision.
Plasma Torch Height Controller
During the cutting process, the height of the steel plate will be automatically tracked, and the cutting torch and steel plate will always be kept at a fixed height to ensure the cutting quality.
Linear Guide
The aluminum alloy track is equipped with a steel linear slide rail, which fully guarantees the equipment operation accuracy, is easy to install, and is durable.
Cable
The drag chain follow-up mechanism is adopted to ensure the cleanliness of the pipeline. And can reduce the overshoot tendency of the machine when turning at high speed. It can prevent the pipeline from being worn out due to the high-speed cutting and walking during the cutting and judging motion, and at the same time, it can save unnecessary pipeline length.

Applicable industry &
materials
Shipbuilding, construction equipment, transportation equipment, aerospace, bridge construction, military industry, wind power generation, structural steel, boiler containers, agricultural machinery, chassis electrical cabinets, elevator manufacturers, textile machinery, environmental protection equipment, etc.
Aluminum, copper, titanium, nickel, iron, galvanized sheet, white steel, titanium sheet, carbon steel, stainless steel, alloy steel, composite metal, etc.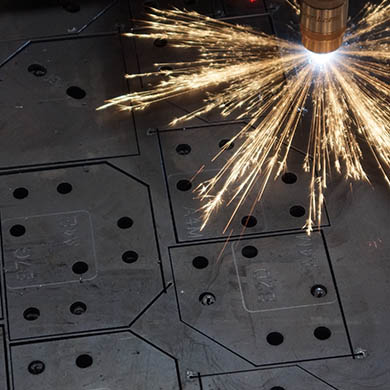 Benefits
A new type of portable design manual handling structure is applied to the mini CNC plasma cutting machine. Despite its small size, it can still cut 4ft x 8ft metal plates due to the X and Y-axis travel of 1300x2500mm. The portable design allows us to place the plasma cnc in any position required for production. Let us give an example to explain this. Suppose we want to cut an 8-meter long steel plate, so the big steel plate is not easy to move. So how do we cut it on the machine? Bring the portable cnc plasma cutting machine here, we put it on the metal plate, and then start the cutting equipment. Therefore, this is the correct solution for cutting giant metal materials.
Fast cutting speed, high precision, and low cost.
The cutting incision is thin and tidily and can avoid the second processing.
The Plasma Cutting Machine can cut all metal sheets. The cutting area is very wide.
The cutting speed of the metal cutting machine is very fast and the efficiency is high. The cutting speed can reach more than 20m/min.
The cutting precision is higher than the flame cutting machine. The underwater cutting has no deformation, and the fine plasma cutting has higher precision.
Smaller inner contours and holes are possible
The Plasma Cutting Machines use a professional plasma CNC system. It is all offline work and humanized operation. Visitable Controller for plasma cutters.
This  Metal Cutting Machine can be compatible with a variety of software. Complete CAD / CAM controlled production feasible
No special requirements on the working environment
Reduced investment and operating costs than fiber Laser Cutting Machine
Affordable factory direct price and a one-year warranty.

Technical Data of the Portable Plasma Cutte

r
| | |
| --- | --- |
| Model Name | Plasma Cutting Machine FS1325P |
| X, Y Axis Travel | 1300X2500mm(4X8ft), Option: 600*900mm, 2000X3000mm,  2000X4000mm, 1500X3000mm(5X10ft) |
| Z Axis Travel | 200mm, Option; 300mm,400mm, 500mm,600mm. |
| Rotary Axis | 200mm(diameter)*2500mm |
| Plasma Power | 63A,Option:100A,105A,120A,160A,200A |
| Power Source Brand | LGK, Option: Hypertherm, Thermadyne, Victor, |
| Drive System X, Y and Z axis | German Helical Rack and Pinion for X and Y-axis. And Z-axis with TBI ball screw |
| Transmission X, Y, and Z-axis | HIWIN/THK Rail Linear guide and bearings. |
| Motor for X, Y, and Z | Stepper motor / AC Servo motor |
| Machine Structure | Thicken weld steel tube machine body. Rigid gantry and side support, Professional Plasma cutter table |
| Working Voltage | 220V/50HZ/60HZ,3PH or 380V/50HZ/60HZ,3PH |
| Command Language | G Code & M Code |
| Operating System | Fang Ling Control System |
| Lubrication | Automatic lubrication system |
| Max. Rapid Travel Speed | 40000mm/min |
| Max. working Speed | 25000/min |
| Machining Function | carbon steel 0-50mm cutting thickness and stainless steel 0-20mm cutting thickness |
| Compatible Software | FastCam, Ucannest |
| Other Names | CNC plasma cutter, CNC plasma cutting machine, plasma CNC machine, CNC plasma cutter price, cheap CNC plasma cutter, small CNC plasma cutter, CNC plasma for sale, CNC plasma router, best CNC plasma cutter, CNC plasma machine for sale, mini CNC plasma cutter, CNC plasma cutting machine manufacturer |
| Suitable Materials | Stainless steel, mild steel, brass, copper, aluminum alloy, sheet metal, spring steel, gold, silver, etc |
| Applications | Sheet metal, kitchenware, components, decorations industry |
| Gross Weight | 2200 KGS |
| Package Size | 3700*2250*1850mm |

Why choose FORSUN CNC?
Thicken weld tube machine frame for high performance and material processing.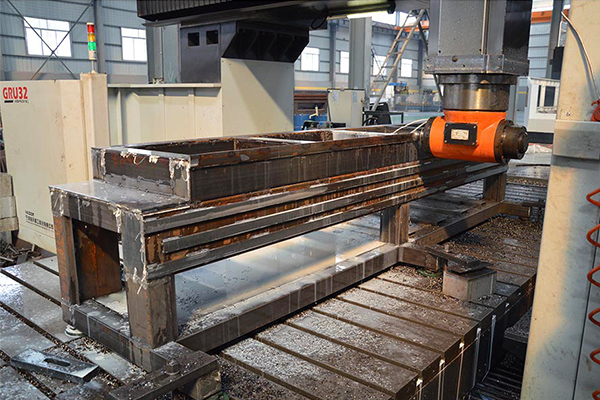 Heavy-duty frame milling and drilling by machining center to keep high accuracy.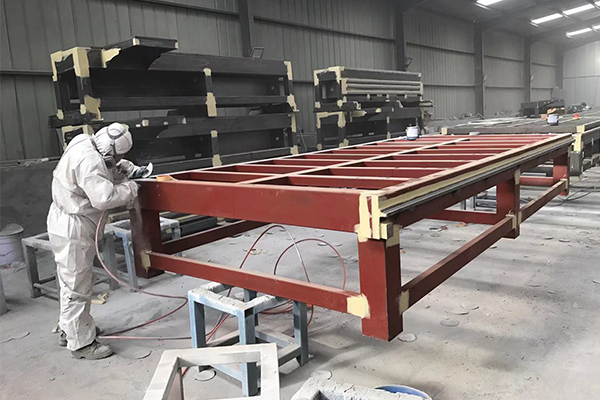 Sandy blasting putty and rusty cleaning before painting to prolong machine body use.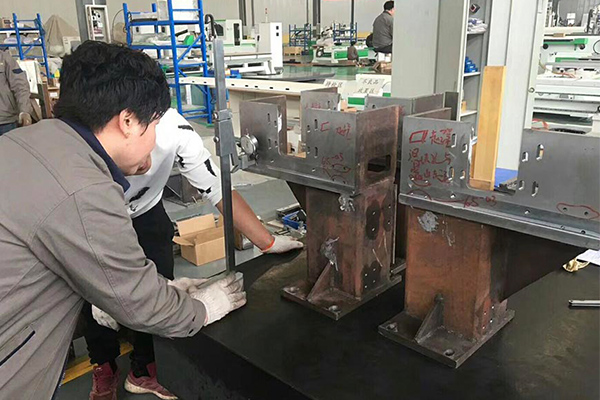 Material incoming inspection to make sure machine quality in the very beginning.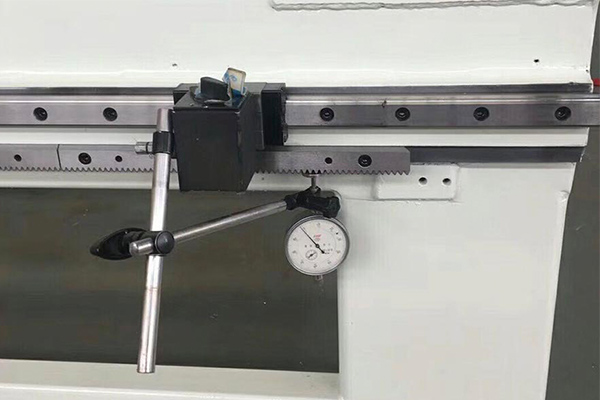 During the CNC Router installation process, precision instruments are used to ensure the accuracy of the CNC Router Machine installation.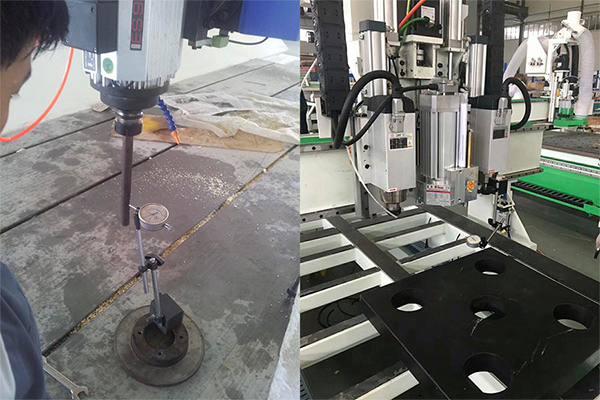 After the CNC Router is installed, use the testing instrument to test the Vertical accuracy, traveling accuracy, working accuracy, repeated positioning accuracy, etc.
Working Procedure of CNC Plasma Cutter
Convert the working file to DXF by AUTO CAD or use existing Solid-works

Import the parts drawing of DXF format or DWG format into the FastCAM software for nesting and conversion, and then output NC NC program (generally it is G code and EESI format code)

Copy the converted NC program(G Code file ) to the plasma cutting machine controller system by USB Disk.

Set working parameters according to the material and thickness of the selected program.

Adjust the position of the torch on the plate and start the program for cutting;

End cutting, cutting, and slag removal.
FAQ
I don't know anything about this machine, which one should I choose?
Very easy to choose. Just tell us what you want to do with the plasma cutting machine, and then let us provide you with perfect solutions and suggestions.
When I bought this machine, I didn't know how to use it. what should I do?
We will send the video and English manual along with the equipment. If you still have questions, we can talk via phone or WhatsApp, and email.
What should I do if there are some problems with the machine during the warranty period?
If there is a problem with the machine, we will provide parts for free during the machine warranty period. Therefore, if you have any questions, please let us know and we will provide you with a solution.
Before sending me an inquiry about our plasma cutting machine, it is best to provide me with the following information
Your cutting size. Because in our factory, we have different models according to the working area.
Your material: carbon steel, stainless steel, aluminum, or other materials
 What is your cutting thickness?
We will recommend the right machine for you according to your cutting thickness