CNC Plasma Cutter with Rotary Axis for steel plate, metal plate, metal tube and stainless steel cutting.
The CNC plasma cutting machine FSP1530-R comes with a powerful plasma torch, helical rack and pinion, intelligent controller system, and Automatic Arc and cap voltage plasma torch height controller for torch height control. The feature of "one-keystroke height calibration" guarantees that in any circumstances, the user only needs to press one key to calibrate the absolute height measurement and achieve linear height measurement. This CNC Plasma Cutting machine uses a 105A Hypertherm Plasma source. Other kinds of plasma sources are available, such as 65A, 200A, and so on. The cutting edge is very smooth. With a movement speed of a maximum of 2.5 meters per minute during operation, it processes all sliceable metallic materials up to 20 mm. The cutting thickness can be from 1mm to 30mm according to different plasma power sources. The working size of this plasma cutter can be 4×4 and 4×8 or other sizes according to the real requirement.
What is The Best CNC Router for My Business?
Components of a CNC Plasma Cutting Machine
The CNC Plasma Cutter Consists of:
Power Source Supply
Plasma Torch
Ground Cable
Power Line
Compressed Air Supply
Cooling System
CNC machine
Plasma Cutter Pictures Gallery
Suitable Material
Stainless steel, mild steel, brass, copper, aluminum alloy, sheet metal, spring steel, gold, silver, etc
Working Video of the Plasma Cutting Machine ( Metal Plate Cutting)
Working Video of the Plasma Cutter ( Round Metal Tube Cutting)
Features of CNC Plasma Cutting Machine
working area: 1300*2500mm (4×8ft)

Heavy-duty thicken machine body

100A plasma power

Stepper motor and Leadshine Driver

Start Controller system from Beijing

Automatic Arc Pressure adjustable

HIWIN Linear Guide Rail

Helical Rack and Pinion

Fast Cam software

Plywood package

Warranty: 1.5 years
The benefit of CNC plasma cutting machine
The Plasma Cutting Machine can cut all metal sheets. The cutting area is very wide.
The cutting speed of the metal cutting machine is very fast and the efficiency is high. The cutting speed can reach more than 20m/min.
The cutting precision is higher than the flame cutting machine. The underwater cutting has no deformation, and the fine plasma cutting has higher precision.
Smaller inner contours and holes are possible
The Plasma Cutting Machines use a professional plasma CNC system. It is all offline work and humanized operation. Visitable Controller for plasma cutters.
The CNC Plasma uses the advanced USB interface to work offline with fast data transmission and does not occupy computer resources.
This  Metal Cutting Machine can be compatible with a variety of software. Complete CAD / CAM controlled production feasible
The machine is with the function of continued carving when power outages and breakpoints. And the function of processing time prediction and automatic tool setting.
No special requirements on the working environment
Reduced investment and operating costs than fiber Laser Cutting Machine
Metal Tube Cutting is available.
Affordable factory direct price and one year warranty.
Technical Data of this Plasma Cutte

r
| | |
| --- | --- |
| Model Name | Plasma Cutting Machine FS1530P-R |
| X, Y Axis Travel | 500X3000mm(5X10ft), Option: 600*900mm, 1300X2500mm(4X8ft), 2000X3000mm. 2000X4000mm. |
| Z Axis Travel | 200mm, Option; 300mm,400mm, 500mm,600mm. |
| Rotary Axis | 200mm(diameter)*2500mm |
| Plasma Power | 63A,100A,105A,120A,160A,200A |
| Power Source Brand | Hypertherm, Thermadyne, Victor, LGK |
| Drive System X, Y and Z axis | German Helical Rack and Pinion for X and Y-axis. And Z-axis with TBI ball screw |
| Transmission X, Y and Z axis | HIWIN/THK Rail Linear guide and bearings. |
| Motor for X, Y, and Z | Stepper motor / AC Servo motor |
| Machine Structure | Thicken weld steel tube machine body. Rigid gantry and side support, Professional Plasma cutter table |
| Working Voltage | 220V/50HZ/60HZ,3PH or 380V/50HZ/60HZ,3PH |
| Command Language | G Code & M Code |
| Operating System | Start controller / DSP Handheld Controller/ NC studio/Mach3 |
| Lubrication | Automatic lubrication system |
| Max. Rapid Travel Speed | 40000mm/min |
| Max. working Speed | 25000/min |
| Machining Function | carbon steel 0-50mm cutting thickness and stainless steel 0-20mm cutting thickness |
| Compatible Software | FastCam, Ucannest |
| Other Names | CNC plasma cutter, CNC plasma cutting machine, plasma CNC machine, CNC plasma cutter price, cheap CNC plasma cutter, small CNC plasma cutter, CNC plasma for sale, CNC plasma router, best CNC plasma cutter, CNC plasma machine for sale, mini CNC plasma cutter, CNC plasma cutting machine manufacturer |
| Suitable Materials | Stainless steel, mild steel, brass, copper, aluminum alloy, sheet metal, spring steel, gold, silver, etc |
| Applications | Sheet metal, kitchenware, components, decorations industry |
| Gross Weight | 2200 KGS |
| Package Size | 3700*2250*1850mm |
Thicken weld tube machine frame for high performance and material processing.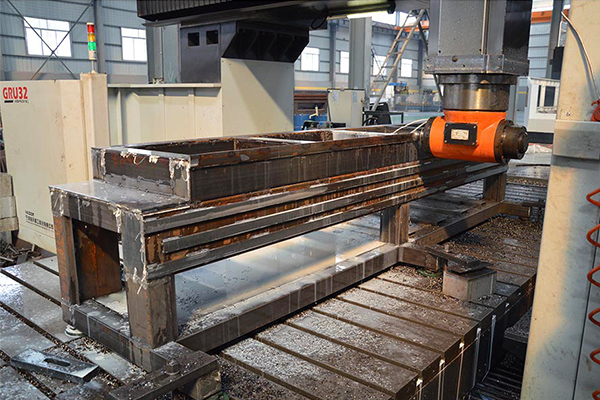 Heavy duty frame milling and drilling by machining center to keep high accuracy.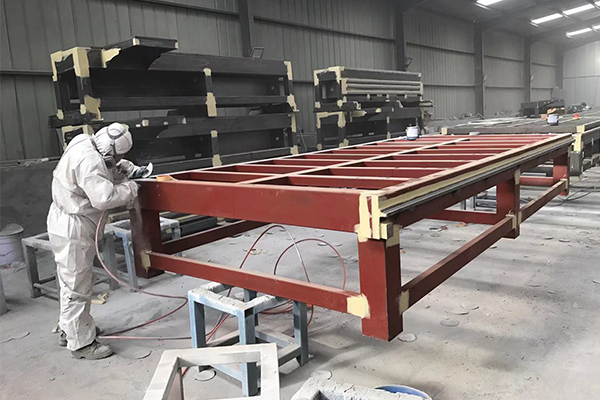 Sandy blasting putty and rusty cleaning before painting to prolong machine body use.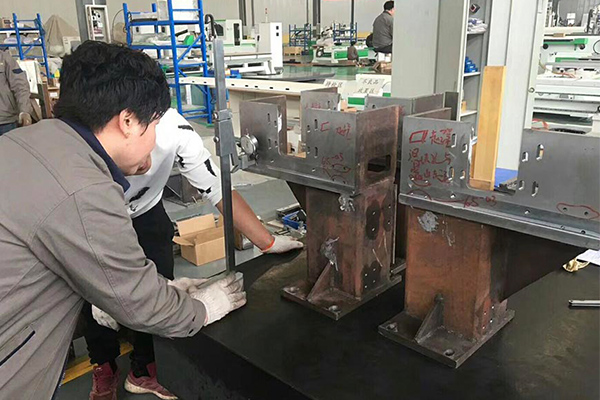 Material incoming inspection to make sure machine quality in the very beginning.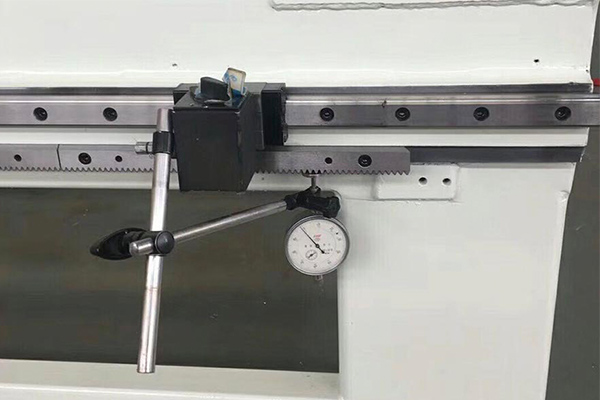 During the CNC Router installation process, precision instruments are used to ensure accuracy of the CNC Router Machine installation.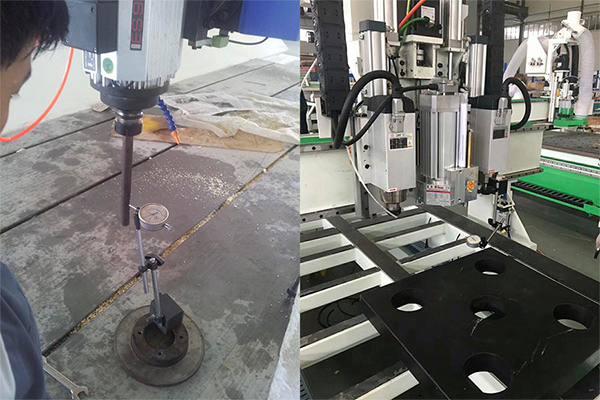 After the CNC Router is installed, use the testing instrument to test the Vertical accuracy, traveling accuracy, working accuracy, repeated positioning accuracy, etc.
Working Procedure of CNC Plasma Cutter:
Convert the working file to DXF by AUTO CAD or use existing Solid-works

Import the parts drawing of DXF format or DWG format into the FastCAM software for nesting and conversion, and then output NC NC program (generally it is G code and EESI format code)

Copy the converted NC program(G Code file ) to the plasma cutting machine controller system by USB Disk.

Set working parameters according to the material and thickness of the selected program.

Adjust the position of the torch on the plate and start the program for cutting;

End cutting, cutting, and slag removal.
Safety Operation Precautions
Prevent electric shock




(1), Do not operate any switch knobs with wet hands to prevent electric shock.




(2), Please do not check the line or replace the electrical components with power, otherwise, you may get an electric shock or injury.

 Prevent fire




(1), The working materials used in the cutting machine are flammable gases such as acetylene, propane, liquefied gas and the like. Therefore, it is necessary to periodically seal the gas path.




(2), The gas source part of the cutting machine should be kept away from the open flame and placed with normal carbon dioxide or other corresponding properties.

Prevent damage




(1) When the cutting machine is running, pay attention to whether there are people or other objects in front to avoid injury.




(2), After each cut, the torch should be raised to the highest position to avoid hitting the steel plate and damaging the torch.

Operational precautions




(1) Check whether there is air leakage in the pipeline of the machine before starting the machine. If there is air leakage, it will never start.




(2) Check whether there are obstacles on the working surface and the guide rail after starting the machine. If there are obstacles, it must be excluded.




(3) Operators are not allowed to leave their jobs at will, and non-operators are not allowed to start the machine at will.




(4) In the event of an emergency during operation, immediately press the red emergency stop switch to prevent accidents.




(5) When maintaining and maintaining the CNC, it is necessary to pay attention to the command and coordination of the special controller.




(6) Close all air valves before shutting down and put the remaining gas in the air path.




(7) If it is found that the pipeline has tempered, it is necessary to immediately cut off the electricity and shut off the gas. There should be a record of the malfunction of the machine.




(8) If a fault is found, there should be a fault record.