This CNC plasma cutting machine is mainly used to automatically cut steel/iron pipes. It can realize automatic programming and automatic CNC nesting of any complex joint types such as inter-pipe and pipe materials and can cut any type of welding groove at one time. This product is widely used in steel structures, shipbuilding, bridge, heavy machinery, and other industries.
Equipped with a rotating shaft for pipe cutting, the diameter is 30-300mm, and it can process up to 6 meters of round pipes. It is lighter in weight than heavy-duty shafts and is easy to move. It is suitable for frequently changing workplaces.
What is The Best Plasma Cutter for My Business?
Machine Video of CNC Plasma Cutting Machine
Applicable materials of CNC Plasma Cutting Machine
This CNC plasma pipe cutting machine is mainly used for round pipes of different metal materials, including carbon steel, stainless steel, alloy steel, metal, copper, aluminum, titanium, galvanized steel, etc.
Applicable industries of CNC Plasma Cutter
Pipeline plasma cutting machines can be widely used in different industries, including advertising, shipbuilding, construction equipment, transportation equipment, aerospace, bridge construction, military, wind power, structural steel, boiler vessels, agricultural machinery, elevators, environmental protection equipment, etc.
CNC Tube Plasma Cutter Machine
Projects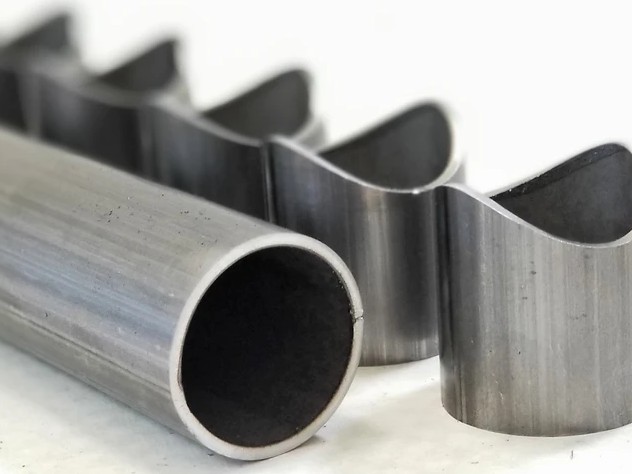 Advantages of CNC Plasma Cutter with Tube Cutting
The steel pipe to be cut is hung on the pipe support device. The support device is equipped with three sets of rollers of different sizes to adapt to the change in the diameter of the steel pipe. After the pipe is loaded, the steel pipe is clamped to the three-jaw linkage self-centering chuck through the cooperation of the workpiece clamping mechanism superior.
Sangua pneumatic disc: Automatic centering reduces the waiting time for loading and unloading and improves production efficiency. Pneumatic clamping, large and constant clamping force, large and thick pipes are not loose and do not slip.
Fang Ling Control System
Automatic arc voltage height control: During the cutting process, the height of the steel plate will be automatically tracked, and the cutting torch and steel plate will always be kept at a fixed height to ensure the cutting quality.
Intelligent adjustment of arc voltage: After multiple collisions, the set arc voltage will automatically increase.
Collision feedback: feedback of the collision signal to the control system immediately after the collision.
Plasma Torch Height Controller
During the cutting process, the height of the steel plate will be automatically tracked, and the cutting torch and steel plate will always be kept at a fixed height to ensure the cutting quality.

Machine Pictures of CNC Plasma Cutter Machine
Technical Data of this CNC Plasma Cutter
| | |
| --- | --- |
| Model Name | Plasma Cutting Machine FS1325 |
| X, Y-Axis Travel | 1300X2500mm(4X8ft), Option: 600*900mm,1300X2500mm(5X10ft), 2000X3000mm. 2000X4000mm. |
| Z-Axis Travel | 200mm, Option; 200mm, 300mm,400mm,500mm,600mm. |
| Rotary Axis | 300mm(diameter)*6000mm |
| Plasma Power | 63A,100A,105A,120A,160A,200A |
| Power Source Brand | Hypertherm, Thermadyne, Victor, LGK |
| Drive System X, Y, and Z-axis | German Helical Rack and Pinion for X and Y-axis. And Z-axis with TBI ball screw |
| Transmission X, Y, and Z-axis | HIWIN/THK Rail Linear guide and bearings. |
| Motor for X, Y, and Z | Stepper motor / AC Servo motor |
| Machine Structure | Thicken weld steel tube machine body. Rigid gantry and side support, Professional Plasma cutter table |
| Working Voltage | 220V/50HZ/60HZ,3PH or 380V/50HZ/60HZ,3PH |
| Command Language | G Code & M Code |
| Operating System | Start controller / DSP Handheld Controller/ NC studio/Mach3 |
| Lubrication | Automatic lubrication system |
| Max. Rapid Travel Speed | 40000mm/min |
| Max. working Speed | 25000/min |
| Machining Function | carbon steel 0-50mm cutting thickness and stainless steel 0-20mm cutting thickness |
| Compatible Software | FastCam, Ucannest |
| Other Names | CNC plasma cutter, CNC plasma cutting machine, plasma CNC machine, CNC plasma cutter price, cheap CNC plasma cutter, small CNC plasma cutter, CNC plasma for sale, CNC plasma router, best CNC plasma cutter, CNC plasma machine for sale, mini CNC plasma cutter, CNC plasma cutting machine manufacturer |
| Suitable Materials | Stainless steel, mild steel, brass, copper, aluminum alloy, sheet metal, spring steel, gold, silver, etc |
| Applications | Sheet metal, kitchenware, components, decorations industry |
| Gross Weight | 2200 KGS |
| Package Size | 3700*2250*1850mm |
Why Choose Us
Professional CNC Router manufactured with more than 10 years of experience in CNC Router design, manufacture, machining, inspection, etc
All the spare parts are world-famous brands like Siemens controller from Germany, Yaskawa servo motors from Japan, Igus cable from Germany, ABB from Switzerland, and so on.
All the machine bodies are through whole welding, heat treating, sandblasting and three times painting to make sure the machine body will be never out of frame or have painting problem. It will make your machine always work in high precision, fast speed like the new machine.
7*24 hours service after the sale with English, Russia, Spanish or Portuguese, etc.
3 years warranty for main spare parts while easy broken parts are 1.5 years.