Description of ATC CNC Router Machine with C Axis
The ATC CNC router machine is designed with Hiteco aggregate head. This machine has a powerful Hiteco aggregate head and a movable rotating device. In addition to the typical application of ATC CNC machine tools to increase efficiency, the machine can also be used for milling, boring, and drilling. The movable rotating device saves space and is mainly used for carving cylinders, such as pillars, pillars, chair legs, etc.
Linear automatic tool changer: The number of linear tool magazines can be customized according to the user's specific processing requirements. The position of the linear tool changer can be placed under the gantry or behind the bed. This tool change method has the advantages of low cost and fast tool change. Especially when the linear tool magazine is placed under the gantry, it can save tool change time, improve processing efficiency, reduce guide rail wear, and correspondingly extend the service life of the machine tool.
Hiteco ATC Spindle & C-axis: Hiteco is specialized in the design and manufacture of high technology industrial electromechanical components for machine tools. Hiteco electric spindles are commonly used in industrial 3-axis and 5-axis CNC routers in the wood, plastic, advanced materials, glass, stone, and metal industries.
1000W High-power Yako servo motor and driver ensure high-speed and stable operation of the machine.
The FORSUN CNC Router comes with an industry-best 2-year warranty, lifetime technical support, and a reputation for outstanding customer service.
What is The Best CNC Router for My Business?
Main configuration of ATC CNC Router Machine:
Spindle: Hiteco 9.5kw ATC spindle
Servo motor and driver: 1kw Yako Servo motor and driver
Control system: FORSUN Controller system
Tool magazine: Linear Auto Tool Magazine with 10 PCS tool
Work video:
Machine Details of ATC CNC Router with C Axis
Hiteco ATC Spindle & C-axis
1KW Yako Servo Drivers
Linear Auto Tool Magazine

Hiteco Adjustable Angle Aggregate
Hiteco designed the first electric spindle with an automatic tool changer for the woodworking industry, and also designed a full range of aggregate devices.
Thanks to the automatic tool changer and Hiteco aggregate device, woodworking machines have gained a high degree of operational flexibility, which is critical to the success of these machines in the market in the following years.
This new shaft extension can be rotated and then locked at various angles to facilitate sawing, drilling, and milling, instead of pointing straight down, it can be rotated 360 degrees horizontally and 90 degrees up and down.
Rotary Axis (The 4th Axis of CNC Router / 4 Axis CNC Router)
The application of the Rotary Axis CNC Router is cylindrical or 3D sculptures in stone, woodworking, advertising, metal, and other industries. We can build the Rotary Axis CNC Router. At the same time, the rotary shaft device can also be added to the standard CNC Router to realize the cylindrical engraving working. Thus, round material and flat material can be processed in one CNC Router. It will save a lot of time and improve high efficiency.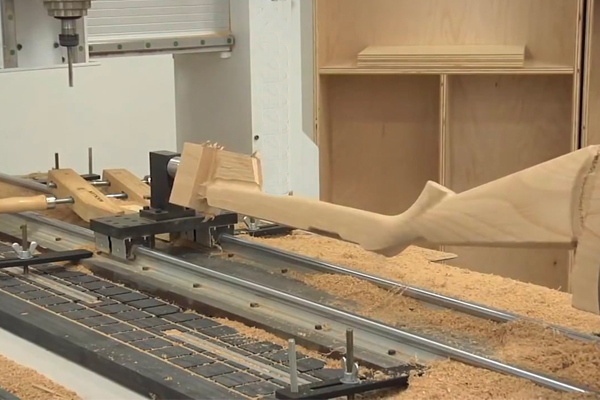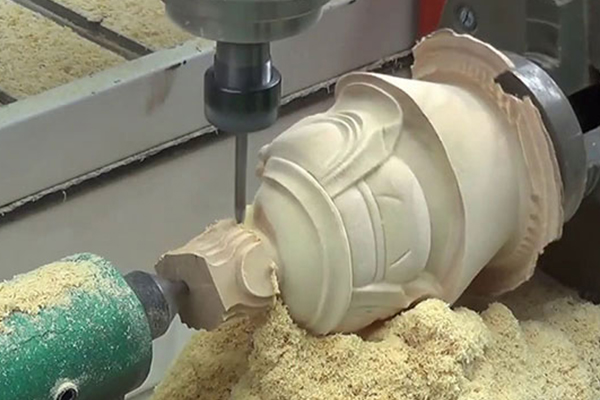 Applications of ATC CNC Router with C Axis:
Cabinets and Furniture, Sign Making and Carving, Musical Instruments, Plastic and Foam, Marble and Stone Engraving, Prototyping and 3D modeling, Metal Fabrication and Steel Applications, Exhibits and Scene / Prop Shops, Architectural Millwork, Aluminum, and Brass Machining
Suitable Materials Rotary Axis CNC Router:
Wood: Solid wood, MDF, Plywood, Chipboard.

Plastic: PVC, ABS, Acrylic, Plastic.

Marble: Artificial Stone, Marble, Granite, Ceramic,

Sign Material: Foam, Cupboard, Styrofoam, Leather, Plastic carpet, corrugated paper,

Metal: Steel, Metal, Stainless, Pipe, tube, Corrugated metals, expanded metal, or flat sheet stock.

Soft Metal: Aluminum, Brass,

Composite: Aluminum Composite, Copper Composite, Titanium Composite, Zinc Composite.
Projects of the Computerized Wood Router

Parameter Data
| | |
| --- | --- |
| Model Name | Wood CNC Router Machine FS2030ATC-C |
| X, Y-Axis Travel | 2000X3000mm, Option:1300X2500mm(4X8ft),1500X3000mm(5X10ft),2000X4000mm |
| Z-Axis Travel | 200mm, Option: 300mm,400mm,500mm,600mm |
| Spindle Power | 9.5kw Hiteco ATC spindle |
| Tool Magazine | Linear Auto tool changer magazine with 10 pcs positions. Option: Carousel type Tool |
| Motor for X, Y, and Z | 1KW Yako Servo motor |
| Operating System | FORSUN controller system. Option: SIEMENS Controller, NC studio, DSP,Syntec |
| Drive System X, Y, and Z-axis | Helical Rack and Pinion for X and Y-Axis,  High precision ball screw for the Z-axis. |
| Transmission X, Y, and Z-axis | HIWIN/THK Rail Linear guide and bearings. |
| Machine structure | Cast steel table structure and side support,  aluminum T-Plate Extrusion Combined vacuum table |
| Working Voltage | 220V/50HZ/60HZ,3PH   380V/50HZ/60HZ,3PH |
| Command Language | G Code & M Code |
| Collet | ISO30,φ4,φ6,1/8,1/9 |
| Lubrication | Automatic lubrication system |
| Tool Calibration | Automatic tool sensor |
| Dust collector system | 3.0KW Dust collector system with 2 bags |
| Max. Rapid Travel Speed | 80000mm/min |
| Max. working Speed | 45000/min |
| Repeatability | +/-0.04mm/300mm |
| Working Accuracy | +/-0.03mm/300mm |
| Other Names of the CNC Router | CNC Wood Router, CNC Router Machine, Router Machine, Wood CNC Machine, CNC Cutting Machine, CNC Wood Carving Machine, CNC Engraver, 3 axis CNC Router, Best CNC Router, CNC Router Price, Wood Router, Wood CNC Router, 3D CNC Router, Router CNC, Aluminum CNC Router. CNC Engraving Machine, CNC Milling Machine, CNC Drilling Machine, Best CNC Router, 4×8 CNC Router, Cheap CNC Router, CNC Carving Machine, China CNC Router, 3d Wood Carving Machine. |
| Machining Function | 2D Machining, 2.5D Machining, 3D Machining |
| Compatible Software | Type3, UcancCAM, ArtcCAM, AlphCAM, Vectric, Enroute, MasterCAM Cabinet Vision, etc |