Description
Two spindles CNC Engraving machine with two rotary Axis. The flat sheet can be embossed, flat-cut, hollowed out. Meanwhile, a cylindrical workpiece can be machined with two detachable rotating shafts. This type of CNC engraving machine is designed for batch processing of the same workpiece. It can produce three identical workpieces at a time. It is a machine with double processing efficiency. It is also possible to add more spindles for higher processing efficiency.
What is The Best CNC Router for My Business?
Working Video
Features
Two Spindles CNC Router machine integral steel structure welding tempering aging treatment cylindrical engraving is not deformed. The gantry-type moves and the work surface is fixed, and the material on the work surface can be arbitrarily processed.
Two Spindles CNC engraving machine is the most cost-effective economical product at present. It is equipped with a 4.5KW water cooling spindle (optional with imported Italian air-cooled spindle) and a moveable rotary shaft for cylindrical products.
This Wood Router machine adopts a double motor drive, selects pairing to ensure smooth movement; X, Y-axis adopts Taiwan Yintai PMI square linear guide + high precision gear rack drive to ensure high precision and high load and high-speed movement of the machine.
The Removable rotary shaft adopts the machine chuck (positive and reverse claw) and the rear ejector pin. The rear tail thimble moves with Taiwan PMI square linear guide, and the concentricity is extremely accurate. The chassis is machined from ZL-102. The largest workpiece can be up to 200 mm in diameter, the processing length can be up to 1200 mm, the workpiece can weigh up to 50 kg, and the workpiece balance roller can be arranged.
Two removable rotary shafts can be placed on the CNC Cutting Machine platform. When the cylindrical workpiece is not processed, the rotary shaft can be removed for plane engraving and multi-purpose for one machine, which saves equipment purchase cost and expands production scale.

Application
Woodworking Industry: furniture decoration, musical instrument manufacturing, wooden crafts, art models, artistic font characters, logos, flat-panel engraving, solid wood furniture, art murals, MDF paint-free doors, composite doors, cabinet doors, bedside tables, screen relief sculptures Three-dimensional curved surface and shape cutting of various wooden industrial products such as cutting, ornament processing, gift wrapping, wave board, electrical countertops, sporting goods, etc.
Mold Industry: can engrave a variety of molds, wood molds, fonts, aviation wood molds, propellers, architectural models, sand table models, motorboat models, automotive foam molds.
Advertising Industry: Acrylic, two-color board, PVC, ABS board, aluminum board, aluminum-plastic board engraving V-grooved cutting, two-color portrait, three-dimensional billboard, all kinds of signs, badges, signs, copper, fonts, fonts, each Class marks, trademarks, etc.
Suitable Materials
MDF, solid wood board, composite board, multi-layer board, planed board, cork, virgin wood, PVC, gypsum, two-color board, aluminum-plastic board, hibiscus board, plexiglass, acrylic, ABS, Vatican, sandstone, marble, granite, all kinds of artificial stone, lightbox, light guide, horn, various metals, all kinds of hard plastic and so on.

Why Choose Forsun CNC Router?
Thicken weld tube machine frame for high performance and material processing.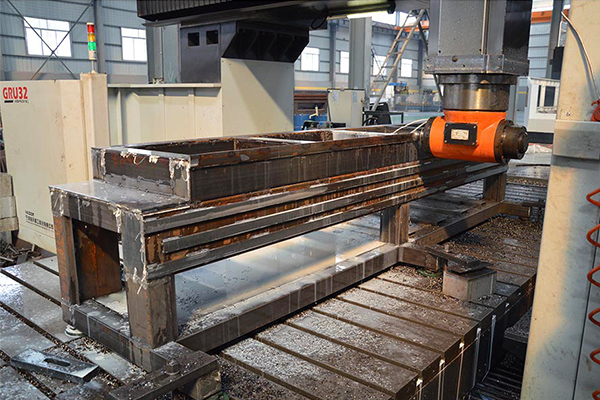 Heavy-duty frame milling and drilling by machining center to keep high accuracy.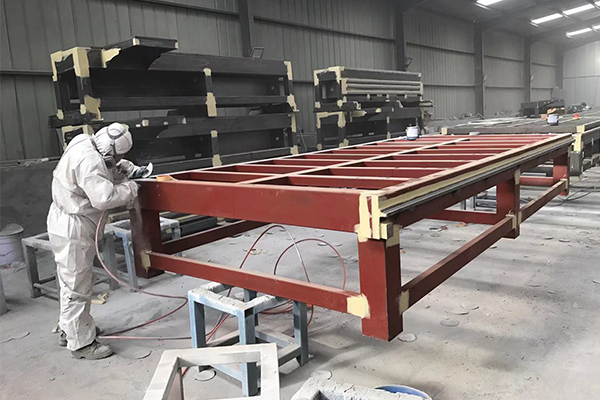 Sandy blasting putty and rusty cleaning before painting to prolong machine body use.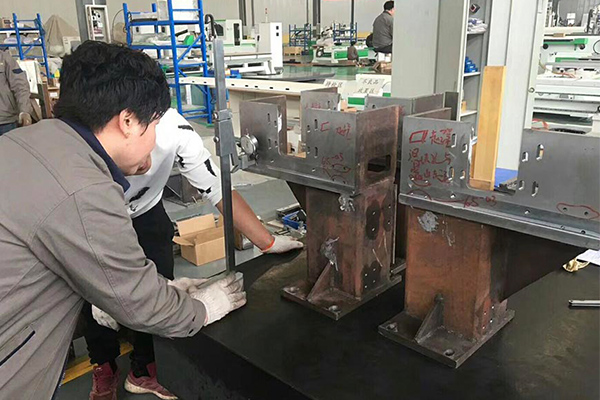 Material incoming inspection to make sure machine quality in the very beginning.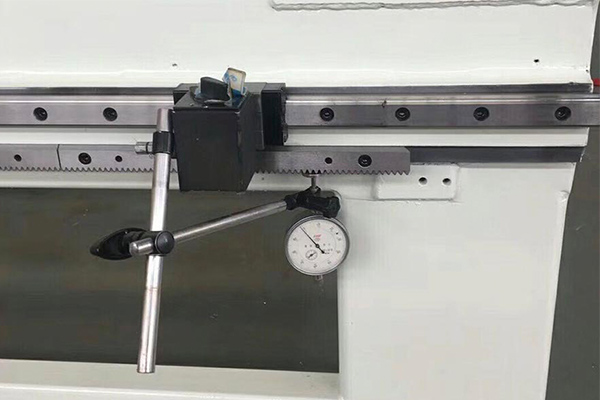 During the CNC Router installation process, precision instruments are used to ensure the accuracy of the CNC Router Machine installation.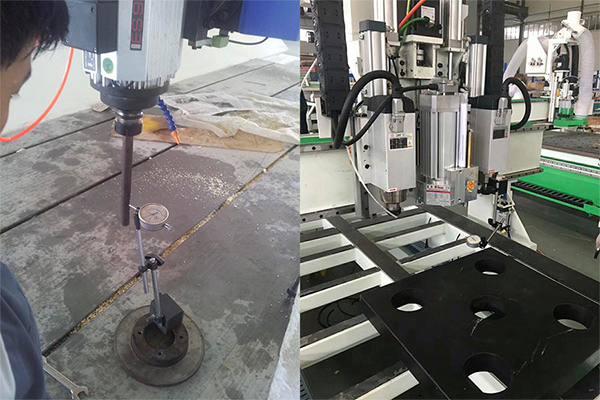 After the CNC Router is installed, use the testing instrument to test the Vertical accuracy, traveling accuracy, working accuracy, repeated positioning accuracy, etc.

Parameter Data
| | |
| --- | --- |
| Model Name | CNC Router FS2030A-R |
| X, Y Axis Travel | 2000X3000mm. Option:1300X2500mm(4X8ft), 1500X3000mm(5X10ft),2000X4000mm. |
| Z Axis Travel | 300mm,Option: 400mm, 500mm,600mm. |
| Spindle Power | 3.0KW, Option: 4.5KW,6.0KW Air Cooling Spindle with 18000RPM, 9.0KW ATC Spindle with 24000RPM. ER20/ER25/ER32 collet. |
| Rotary Axis | 2 Sets Rotary Axis with 200 Diameter |
| Drive System X, Y, and Z-axis | German Helical Rack and Pinion for X and Y-axis. And Z-axis with TBI ball screw |
| Transmission X, Y, and Z-axis | HIWIN/THK Rail Linear guide and bearings. |
| Motor for X, Y, and Z | Stepper motor / AC Servo motor |
| Machine Structure | Thicken weld steel tube machine body. Rigid gantry and side support, aluminum T-Plate Extrusion Combined table, or vacuum table. |
| Working Voltage | 380V/50HZ/60HZ,3PH, Option:220V/50HZ/60HZ,3PH |
| Command Language | G Code & M Code |
| Operating System | DSP Handheld Controller/ NC studio/Mach3/SYNTEC controller/SIEMENS |
| Collet | ER20,ER25,ER32 φ4, φ6,1/8, 1/2 |
| Lubrication | Automatic lubrication system |
| Tool Calibration | Automatic tool sensor |
| Dust collector system | 3.0KW Dust collector system with 2 bags |
| Max. Rapid Travel Speed | 40000mm/min |
| Max. working Speed | 25000/min |
| Repeatability | +/-0.04mm/300mm |
| Working Accuracy | +/-0.03mm/300mm |
| Machining Function | 2D Machining, 2.5D Machining, 3D Machining |
| Compatible Software | Type3, Ucancam, Artcam, Alphcam, Cabinet Vision, etc. |
| Other Names | CNC Router with Rotary Axis, rotary axis CNC router, 4 axis rotary CNC router, cylinder CNC router, CNC router machine with rotary axis, rotary CNC router, wood rotary CNC router, CNC wood router, CNC router machine, router machine, wood CNC machine, CNC cutting machine, CNC wood carving machine, CNC engraver,3 axis CNC router, best CNC router |
| Gross Weight | 2500 KGS |
| Package Size | 4200*2250*1900mm |

Configurations of CNC Router machine Rotary Axis
The CNC woodworking engraving machine is equipped with a rotating shaft, which can be widely used for engraving of square and cylindrical bodies and can also be used for machining 360-degree cylinders. So there are several schemes for configuring the rotating shaft on the engraving machine? The following is a brief introduction.
Directly placed on the platform: the passing height under the conventional gantry is about 22cm. That is, the distance between the gantry and the platform is 22 cm; if the rotating shaft is placed on the platform, the gantry needs to be raised, and the size of the platform is not affected when the plane is engraved. The rotating shaft can be set to be detachable and can be put on and taken off at any time.
Side placement scheme: The biggest difference on the side is: for small diameter rotary shafts, the gantry does not need to be raised, but needs to be widened; the diameter of the rotary shaft affects whether the gantry is raised, if the diameter is large, the gantry is required. Heightening, if the diameter of 10 cm is not needed, but the side of the rotating shaft will affect the size of the platform engraving, generally requires the gantry to widen.
Countersinking scheme: The countertop is sunk as a whole, and the rotating shaft is placed under the platform. If the plane is engraved, the platform is engraved on the rotating shaft. This method is feasible for multi-axis simultaneous machining. That is, when setting, let the rotating axis be perpendicular to the gantry.
Front-end placement or rear-end placement scheme: If the rotary shaft only needs to be added one, and the required size is not required too long, then you can choose to place the rotary shaft on the end and let the rotary axis be placed parallel to the gantry. The end does not need to widen the gantry, and for the diameter is not very large, basically, no need to heighten the gantry;
Machine Pictures