If you are in a creative business, buying a laser cutting machine can greatly increase your opportunities and productivity. The best laser cutting machine on the market can be used for etching, engraving, cutting parts of various materials with high precision, creating personalized products, and so on.
There are many laser machine companies and many different types of laser machines. Too many, almost impossible to choose. So how should you choose?
When investing a lot of money in a laser machine, you must know that you are choosing the right laser machine. Otherwise, it would be painful to lose all this money.
But don't worry, because, in this article, I want you to easily choose the right laser cutting machine for your business. Please continue reading our guide to find the best laser cutting machine for your small business needs.
Do we really need to invest in laser cutting?
Companies that do not have laser cutting machines usually subcontract the work to one or several processing workshops with this ability. This situation does not involve a lot of risks, if you have some flexibility in the lead time, you can use it.
But at that time, you must ask yourself if it is time for the company to introduce laser cutting internally. Even if the business relationship with the subcontractor is good, this must be considered.
How do you know if it is the right time to own a laser? See how much you spend on laser cutting parts each month.
If you think that operators will be able to manually load paper on the tray system that powers the fiber laser, you may want to think again. The speed of modern laser cutting machines requires manufacturers to seriously think about what material handling automation should be equipped with any new laser equipment.

If you decide to do laser cutting in-house, you may need to prove why you need to invest. The costs associated with subcontracting laser cutting are just a starting point for proof. How much can the production efficiency of the manufacturing process increase by using internal laser cutting? How does this affect delivery time? From a cost point of view, you not only have the cost of the laser cutting machine, but also the cost of labor and consumables, such as laser cutting auxiliary gas.
Understanding these answers will enable senior management and even lending institutions to understand the production savings after the initial investment and subsequent investment returns.
Why choose a CNC laser cutting machine?
Laser cutting is a simple process and does not require complicated preparation and post-processing. Laser cutting is done with high precision and high speed. For some materials, such as acrylic, no post-processing is required.
Application of multiple materials
No other technology can cut so many different types of organic and inorganic materials, such as wood, acrylic, glass, textiles, paper, metal, stone, etc.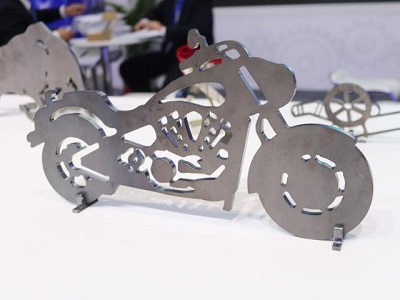 No need for post-processing
Laser is a separation process, in many cases, no post-processing is required. It can even seal the edges of textiles such as synthetic fibers or carpets, so they won't start to fall apart. This saves post-processing procedures, such as mechanical sealing or sanding, depending on the type of material being processed.
No tool wear
The laser cutting machine will not wear out, for example, the tool head will not become blunt. This saves the cost of ongoing operations.

How to Choose the Best Laser Cutting Machine for Your Business?
Different small business owners have different requirements for laser machines. You may need a laser cutting machine that is small enough to fit on a desktop and affordable so that it can pay for itself within a few months. Or, you may need an industrial-strength machine that can cut even the thickest and strongest materials.
Even if small businesses have different needs, all small business owners should weigh the following factors when buying the best laser cutting machine:
What materials do you mainly process?
The first thing you have to figure out is the various materials you will cut now and in the future. The type of material you cut will determine the type of laser cutting machine you need.
There are two main types of laser cutting machines on the market: CO2 (carbon dioxide) laser cutting machines and fiber laser cutting machines. Both machines can cut different kinds of materials.
If you are considering cutting wood, paper, leather, or any similar organic material, then you need to choose CO2, because fiber laser cutting machines cannot cut that material. (If used with fiber lasers, many of these materials will melt, cut poorly, or cause danger. For example, fiber lasers on wood can cause huge fires!) CO2 machines can also cut glass, stone, rubber, felt, cotton, denim, plywood, walnut, oak, and other materials. These are things that the fiber laser cutting machine cannot cut.
On the other hand, fiber machines can cut all kinds of metals, including metals that carbon dioxide machines cannot cut, called reflective metals. These metals are called reflective metals because their structural properties can reflect light (laser) back to the machine. Therefore, if a machine like CO2 that has a specific way of emitting laser light tries to cut these reflective metals, it will have a high risk of damaging itself. Examples of reflective metals are copper, brass, bronze, aluminum, gold, and silver.

How much laser power do you need?
The answer to this question depends on your specific cutting and engraving requirements. The laser power is reflected in the cutting thickness and cutting speed. It is more difficult to cut thicker plates. Therefore, it requires higher laser power. But correspondingly, a higher power laser cutting machine requires more investment. Therefore, small businesses need to choose the laser power that best meets their requirements within a limited budget.
Software compatibility
With a laser cutting machine, small businesses will have one of two options. The first option is to force all your work to use the software specially attached to the laser cutting machine. A second option is an engraving machine that can be used with your software. This way, if you create something in a CAD or Adobe asset, you can transfer it to the laser cutter.
The software that comes with it is usually lower in cost, but it may reduce your ability to fully be creative because you will be forced to use specific fonts and designs.
In addition, the laser cutting machine has a USB connection and a Bluetooth connection. If you don't mind the wired connection, there should be no problem. Other times, if a small business wants to make room for your work, you should consider using wireless technology equipment.
Quality
FORSUN CNC provides the best quality laser machine at the best price. However, among these machines, the ability from one type of machine to another type of machine is slightly different. Nevertheless, you should always try to buy certified machines from legitimate companies such as FORSUN CNC, and never buy counterfeit products
See if it is compatible with your workspace
You should also check whether the laser cutting machine you are considering is compatible with your workshop in terms of size and weight. Don't choose bulky machines that take up most of the workspace and hinder movement and other work in progress. In addition, if your workshop is not on the ground floor, you need to see how much weight your floor can bear when the machine is in working mode, and how you will set up the machine there.

How much does it cost to invest in a CNC laser machine?
Many customers consider the ratio of capital input to output when buying the best wood laser engraving machine. Small businesses usually don't have much budget to buy high-power laser machines, especially small workshops or home stores. So you need to figure out how much you can afford before buying a machine.
The choice of the best laser cutting machine should not be based on budget alone!
Price is the decisive factor for most people to choose a laser machine. However, we recommend that you do not choose the cheapest product you can find. On the contrary, quality and performance are more important considerations. Because you will soon find that buying a "may do" laser cutting machine is the wrong economy because spend a little more money, and the right cutting machine will get more rewards and more reliability. This means you should spend more money without hesitation if it means you will enjoy the best output.
How many years of warranty does the laser machine provide?
If you want to sit back and relax, then you should also consider the manufacturer's warranty. Most products will enjoy a one-year warranty. The premium model has a longer warranty period. Some may even receive lifelong support. This shows that the manufacturer is confident in the quality of its engraving equipment. In addition, please pay attention to the warranty terms and conditions.
How about after-sales service?
During the entire use of the engraving machine, you may encounter problems. The machine may break down. This is frustrating when support is not available. Consider how easy it is to contact the manufacturer and request after-sales support or service.
Use the right laser engraving machine to take your business to a new level. It will ensure the best results and thus provide your customers with the highest level of satisfaction. For the best laser engraving machine, please be sure to consider the services that FORSUN CNC can provide.
Suppliers and distributors
When looking for a supplier or distributor to buy a laser, there are a few things you need to pay attention to. First, a company with good feedback and reviews. Comments are a great way to learn more about a company and what you can expect if you decide to use them. When purchasing professional equipment such as laser cutting machines, it is important to have a company with experience, high-quality customer service, and the ability to provide maintenance support.

What should be paid attention to during the delivery and installation process?
In order to successfully deliver and install the machine, preparations must be made. First, you need to understand what type of foundation is needed. Secondly, a suitable location must be selected on the site, preferably away from corrosive environmental factors.
The optimal location of the machine should also help to efficiently transfer workpieces for downstream production processes.
For many companies, delivering new large-scale industrial equipment is a brand new experience. Our company provides and installs our laser cutting equipment, and we are ready to answer all your questions at any time.
What can be done to simplify the buying process?
For suggestions on all of the above issues, you can contact our company. We will show you what you are looking for, show you our machine, and choose the model of laser cutting machine according to your needs.
We provide information support at all stages of equipment transactions. In addition, we also provide training on how to operate the machine.
Why choose FORSUN's laser cutting machine?
By ordering cheap metal laser cutting services from our company, we guarantee the highest quality through the use of well-known brand equipment. This may be the main standard we provide to our valuable customers.

Summary
Every laser cutting machine is different. It may be a perfect laser cutting machine for one person, but it may be useless for another person. It is important to conduct research and know exactly what you might receive before making an expensive purchase. I hope we can help with this and point you in the right direction.
Best Sale CNC Laser Cutting Machine 2021