The fiber laser cutting equipment is a high-power optical switching platform fiber laser cutting equipment independently developed. It uses an imported original fiber laser source, also has better performance.
Dual Use and Cost-saving: The fiber laser cutting machine can not only cut metal plates, but also metal pipes. It has many uses and can save space of more than 50%, which effectively improves productivity.
Imported high-precision servo motors, guide rails, and German-made gear racks, while ensuring processing efficiency and processing accuracy, greatly improve the stability and reliability of equipment operation.
Active anti-collision function: Effectively reduce the damage rate of the laser head and help you save maintenance costs.
The world-famous brand laser source: According to requirements, RECI, IPG, Raycus, MAX, JPT laser sources can be used. Stable cutting performance, superior beam quality, high stability, and maintenance-free.
12000W JPT fiber laser light source
Famous brand: It has a strong cutting ability for stainless steel, aluminum, and other metal materials, and the cutting thickness can reach 40mm.
Long-lasting: The world's leading JPT laser has a stable performance and service life of up to 100,000 hours. The overall quality of the equipment is guaranteed.
Stable cutting performance: Fiber laser sources can produce excellent beam quality, finer cutting lines, higher work efficiency, and better processing quality. A fully enclosed constant temperature working environment makes the laser source more effective to ensure stable operation
No need to manually adjust the focus: the software automatically adjusts the focus lens to realize automatic perforation and cutting of plates of different thicknesses. The speed of the automatic focusing lens is ten times that of manual focusing.
Larger adjustment range: adjustment range -10mm~+10mm, accuracy 0.01mm, suitable for 0-20mm different types of plates.
Long service life: Both the collimating lens and the focusing lens are equipped with water-cooled heat sinks to reduce the temperature of the cutting head and increase the service life of the cutting head.

Application Industries of CNC

 Fiber Laser Machine

:
Application industries: Fiber laser cutting machine has high cutting efficiency and a large cutting range of metal plates. It can cut all patterns and can be used in aerospace, shipyard manufacturing, automobiles, fitness equipment, steel furniture, stairs, steel frames, medical beds, and many other industries.
Applicable materials: professionally used to cut a variety of medium and thin metal plates, high-quality cutting carbon steel plates, and Especially for carbon steel, stainless steel, galvanized steel, alloy, titanium, aluminum, brass, copper, etc.
Machine Videos
Why choose a fiber laser machine instead of a plasma cutting machine?
When cutting thick sheets, it is even better than plasma cutting, mainly in the following aspects:
Better cutting quality: The laser has a narrower cut, which means less material is wasted. Beyond this, laser cutting requires less manpower and even no secondary processing in most areas.
Higher precision positioning accuracy: Laser cutting, 0.14 mm; Plasma cutting, 0.4 mm, and in the vertical section, laser cutting has a smaller bevel than plasma cutting.
Less cutting costs: Get rid of secondary processing, with a smooth cutting surface, less scum, and less deformation.
Faster cutting speed: Laser cutting speed is up to three times faster than plasma cutting speed.
Environmental protection:

Laser cutting is cleaner and more environmentally friendly than plasma cutting.

The main advantages of high-power fiber laser cutting machine:
Faster cutting speed, higher production efficiency, help customers get more orders.
Thin plates can be cut with air, saving more gas costs.
The better cutting effect, less slag/burr, brighter surface.
The scrap rate is much lower than that of low power, which can save customers more plates and reduce production costs and waste.
Cutting Sample Display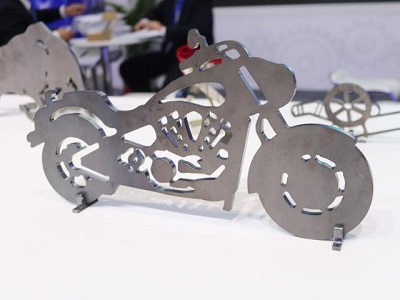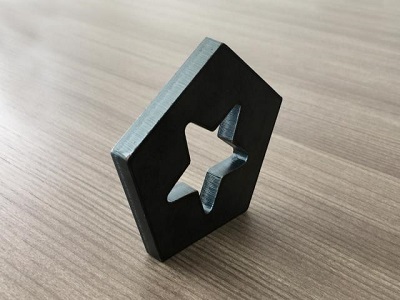 Specification of 12kw CNC
Fiber Laser Machine
| | |
| --- | --- |
| Device model | FS3015L-R |
| Laser type | Fiber Laser Cutter |
| Laser working medium | Fiber |
| Laser wavelength | 1060-1080nm |
| Rated output power | 12kw |
| X-axis travel | 1500mm |
| Y-axis travel | 3000mm |
| Z-axis travel | 200mm |
| Effective cutting range of flat plate | 1500*3000mm |
| positioning accuracy | ±0.02mm/m |
| Repeatability | ±0.02mm/m |
| Maximum empty travel speed | 100m/min |
| Power rating | 380V 50Hz |
| Equipment power | 11.25kw |
| Weight | 4500kg |

Machine Pictures
X Y Z Axis Guide
Servo Motor
Reducer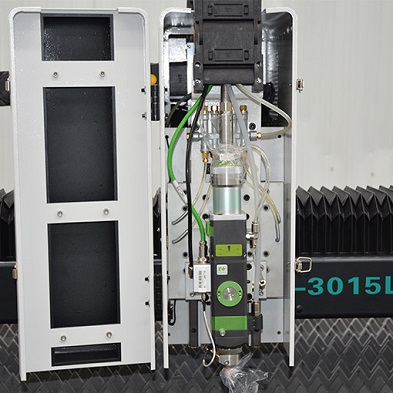 Laser Cutting Head
Chinese Raycus Laser Source
Bed Structure
FAQ:
Q: How to get the most suitable fiber laser cutting machine and the best price?
A: Please tell me the material you want to work on?
How to working on it? Engraving? Cutting? Or other?
What's the MAX size of this material? ( length? Width? Thickness ?)
Q: This is the first time I use this kind of machine, is it easy to operate?
A: There is an English manual or guide video that shows you how to use a machine.
If you still have any questions, please contact us by e-mail/skype/ phone /trade manager online service.
Q: Quality Control:
A: The whole production procedure will be under regular inspection and strict quality control. The complete machine will be tested to make sure it can work very well before being out of the factory. The testing video and pictures will be available before delivery.
Q: How about your after-sales service?
A: After-sales service: We offer you 24 hours service phone, skype, or WhatsApp, our engineer also can go to door install or training.