Description of Multi-spindle Marble Engraving Machine
The Multi-spindle stone CNC router can process materials of different sizes, specially designed for various stone processing, such as marble, granite, sandstone, jade, quartz, etc. The CNC stone engraving machine adopts dual independent spindles, which can carry out engraving, cutting, milling, and other processes to meet the requirements of personalized home decoration and tooling art design. The rotary saw can realize high-speed cutting of stone and improve work efficiency.
CNC Stone Router Machine Configuration
The working area of X, Y, Z:1300*2500*200mm
Rotate cutting saw
5.5kw marble working spindle
YAKO 2811 driver with strong power
T slot PVC table with a water tank
Dust cover to promise clean of the guide and rack
Double work head suitable for cutting and engraving on different materials
DHTN PC Controller system
380V/220V,3phase,50HZ
Drive System: X and Y axis: Helical Rack and Pinion, Z-axis: TBI ball Screw
Manual Lubrication system
Schneider Electric Components
Japan OMRON limit switch
Machine Video
Application of Multi-spindle Stone CNC Router
The CNC stone engraving machine can process almost all stones, so as long as it is an industry involving stone, our CNC stone engraving machine can be used.
Stone industry: carving and processing stone, jade, marble, granite, quartz stone, artificial stone, and other stones.
Furniture industry: countertops, bar counters, floor tiles, marble cabinets, stone furniture.
Decoration industry: stone gift boxes, stone crafts, stone decorations, sculptures, 3D stone crafts, etc.
Stone tablet processing industry: stone tablet making, sarcophagus, tombstone, etc.
Advertising industry: stone advertising, artistic relief, signs, badges, etc.
Ceramic industry: all-stone ceramics, ceramic bottles, and other handicrafts.
Suitable Materials of Stone CNC Router with Rotary Saw Cutting Head
Wood: Plywood, Soft Wood, Hard Wood, MDF, Chipboard
Plastic: Acrylic, ABS, HDPE, PVC, UHMW, HDPE
Soft Metal: Aluminium, Brass, Copper, Mild Steel
Composite: Aluminium Composite, Copper Composite, Titanium Composite, Zinc Composite.
Stone: Suitable for all kinds of marble, granite, ceramic tiles, European-style stone decoration, tombstones, monuments, milestones, murals, railings, stone reliefs, etc.

Parameter Data of Multi-spindle CNC Marble Engraving Machine
| | |
| --- | --- |
| Model Name | FS1325M |
| X, Y-Axis Travel | 1300*2500mm(4*8ft), Optional: 1300X3000mm(4X10ft), 1500X3000mm(5X10ft), 2000X3000mm. 2000X4000mm. |
| Z-Axis Travel | 200, Optional: 300mm,400mm, 500mm,600mm. |
| Spindle Power | 5.5KW  Marble engraving spindle with 24000RPM. ER25 |
| Drive System X, Y, and Z-axis | German Helical Rack and Pinion for X and Y-axis. And Z-axis with TBI ball screw |
| Transmission X, Y, and Z-axis | HIWIN/THK Rail Linear guide and bearings. |
| Motor for X, Y, and Z | Stepper motor / AC Servo motor |
| Machine Structure | Thicken weld steel tube machine body. Rigid cast steel gantry and side support and table, water tank |
| Working Voltage | 220V/50HZ/60HZ,3PH or 380V/50HZ/60HZ,3PH |
| Command Language | G Code & M Code |
| Operating System | DHTN PC Controller system |
| Collet | ER25, φ4, φ6,1/8, 1/2 |
| Lubrication | Automatic lubrication system |
| Tool Calibration | Automatic tool sensor |
| Max. Rapid Travel Speed | 40000mm/min |
| Max. working Speed | 25000/min |
| Repeatability | +/-0.04mm/300mm |
| Working Accuracy | +/-0.03mm/300mm |
| Machining Function | 2D Machining, 2.5D Machining, 3D Machining |
| Compatible Software | Type3, Ucancam, Artcam, etc. |
| Other Names | marble engraving machine, marble carving machine, marble router machine, CNC marble engraving machine, granite marble cutting machines, marble stone cutting machine, marble engraving tools, CNC stone router machine |
| Suitable Materials &Applications | Marble, bluestone, jade crystal, agate, glass, plastic cement, ceramic, stainless steel, titanium, copper, iron, aluminum, bamboo, and other hardwood surfaces of virtue and sculpture. |
| Gross Weight | 2000 KGS |
| Package Size | 3900*2250*1950mm |

Machine Pictures of Multi-spindle CNC Marble Engraving Machine
Worktable with Water Tank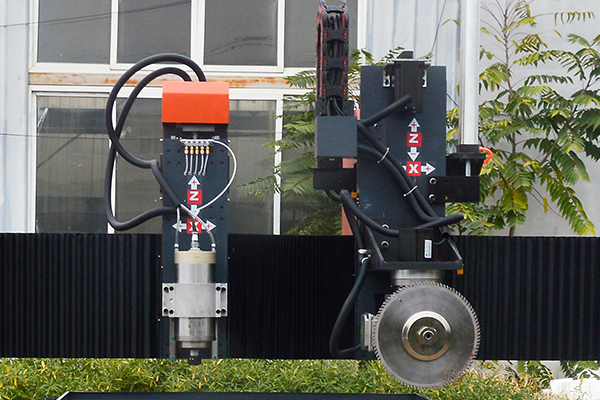 5.5kw Marble Work Spindle
Marble Cutting Saw
Projects by CNC Marble Engraving Machine

Maintenance of stone engraving machine:
Since the stone engraving machine is a precision high-tech CNC machine tool, in order to ensure the normal operation of the stone engraving CNC machine tool and prolong the service life of the machine tool, we must maintain the CNC stone machine tool at all times.
1. The continuous operation time of the CNC stone carving machine should be less than 10 hours a day to ensure the cleanness of the cooling water and the normal operation of the water pump. The water spindle motor must not be short of water, and the cooling water should be replaced regularly to prevent the water temperature from being too high. If the temperature of the working environment is too low in winter, the water in the water tank can be replaced with antifreeze.
2. Pay attention to cleaning each time the stone carving CNC machine tool is used. Be sure to clean the dust on the platform and transmission system, and lubricate the transmission system (X, Y, Z-axis) regularly (weekly). (Note: X, Y, Z three-axis polished rods are maintained with oil; the screw part is added with high-speed butter; the temperature of the working environment in winter is too low, the screw and polished rods (square rail or round rail) should be cleaned with gasoline first, and then refueled, otherwise it will The resistance of the transmission part of the machine is too large, causing the machine to be misaligned.)
3. When maintaining and inspecting the electric box of the stone engraving machine, be sure to cut off the power supply, wait until the display has no display and the main circuit power indicator light goes out before proceeding.
Why Choose Us?
Professional CNC Router factory with more than 10 years experience in CNC Router design, manufacture, machining, inspection, etc
All the spare parts are a world-famous brand like Siemens controller from Germany, Yaskawa servo motors from Japan, Igus cable from Germany, ABB from Switzerland, and so on.
All the machine bodies are through whole welding, heat treating, sandblasting and three times painting to make sure the machine body will be never out of frame or painting problem. It will make your machine always work in high precision, fast speed like the new machine.
7*24 hours service after the sale with English, Russia, Spanish or Portuguese, etc.
3 years warranty for main spare parts while easy broken parts are 1.5 years.
Feel free to contact us if you have any questions about our CNC Routers. We're on GMT +8 and reply to all emails within 12 hours.