Description of Nesting CNC Router
The purpose of the nesting router machine is to obtain higher productivity from the CNC with fewer hands. One person can operate the machine because all materials are automatically processed, which really makes the operator's job much simpler. Tool changer, unloading equipment. It can automatically complete the whole process of preparing, feeding, fixing, cutting, engraving, and unloading MDF wood. 

Through intelligent, user-friendly, and highly automated operation, the machine can make it easier for operators to process all information, and anyone can learn to operate within a few hours, thus saving labor costs.
A highly automated discharge solution with automatic loading and unloading systems. The cycle of loading, nesting, drilling, and unloading is automatically executed when the work is completed, thereby maximizing productivity and zero downtime.
A truly multifunctional nested engraving machine, vertical drilling, and engraving can be done at the same time. Very suitable for furniture, office furniture, cabinet production.
Automatic feeding, cutting optimization, vertical hole drilling, automatic cutting coherent, continuous process, maximize efficiency output.
Save time and effort, save materials, automatically optimize layout, and improve material utilization. High quantity, automatic design, automatic typesetting, no manual intervention, minimize the error rate and ensure the quality of the order.
Position sensors and positioning cylinders meet the requirements of high-precision orientation and highly automated production lines.
Highly automated discharge solution with automatic loading and unloading system. The entire work cycle of loading, nesting, drilling, and unloading is performed automatically, thereby achieving the highest productivity and zero downtime.
What is The Best CNC Router for My Business?
The advantage of CNC router with loading and unloading table
High precision and reliability over time

Maximum productivity, minimum footprint

High processing flexibility

Machine customization depending on different production requirements

Full automatic and save labor cost
Work video:
Features
Multi-Tool CNC Router: According to different processing requirements, the required spindle starts to work, and the other spindles are in the standby state. This not only saves the time of manual tool change but also improves production efficiency.
Humanized machine control interface design: Workers can operate the machine proficiently with simple training. The high efficiency of the machine can help you achieve a leap in productivity.
Special boring head: There is a special drilling package next to the spindle, which can quickly drill and mill, improve the efficiency of furniture splicing and reduce labor costs.
Automatic unloading platform: conveyor belt unloading system, saves manual picking time, realizes complete automation, and effectively reduces labor costs.
Automatic feeding, optimized opening, vertical hole punching, and automatic unloading can be done in one go, without interruption in the process, to maximize efficiency and output.
Strong Body: Precision machined and stress relieved so that the foundation remains true and steady over the operational life of the machine.

Machine size is customizable depends on the customer's panel size. We can build such as 1300*2500mm,1500*3000mm,2000*3000mm,2000*4000mm, and so on.

Machine Pictures:
Automatic Tool Calibration
Effectively save the time of manual toolset, and the toolset is convenient and quick
Boring Head and Spindle
The air-cooled spindle has a high speed and strong cutting force, which greatly reduces the machine failure rate; the boring head greatly improves work efficiency
Feeding Roller
Adding a roller at the back of the table to load the material is more labor-saving, and it is easy to transfer the plate and effectively avoid the plate from being scratched during the feeding, which greatly improves the work efficiency.
Material Grasp Cylinder
After the work of the whole machine is completed, the material is automatically pushed, which saves time and effort and improves production efficiency.
Servo Motor and Reducer
High-precision servo motor, stable operation, high-efficiency, and long-lasting production.
High precision reducer: The reducer has the advantages of small size, lightweight, strong load capacity, long service life, high reliability, low noise, large output torque, and high efficiency.
Vacuum Table
The vacuum adsorption table has large holes, strong adsorption force, and humanized auxiliary feeding device, which is convenient and saves manpower.
Auto Unloading Table
Combining the conveyor unloading table with the automatic indexing table and the material loader can provide a fully automatic material handling solution for your factory. Very popular in nested production.
Auto Loading Table
It is designed to automatically pick up the plates from the indexing material lifter and place them on the machine tool to be cut. It is very suitable for high-production environments or environments where OH&S problems are caused by the manual handling of heavy plates.
Suitable Materials
Wood: Plywood, Soft Wood, Hard Wood, MDF, Chipboard

Plastic: Acrylic, ABS, HDPE, PVC, UHMW, HDPE

Stone: Granite, Marble, Slate, Basalt, Pebbles, Natural Stone, Ceramic, Porcelain

Soft Metal: Aluminum, Brass, Copper, Mild Steel

Composite: Aluminium Composite, Copper Composite, Titanium Composite, Zinc Composite.

Applications of auto wood nesting CNC router
1) Furniture industry: cabinet doors, wooden doors, solid wood, plates, antique furniture, doors, windows, desks, and chairs.
2) Decoration industry: screen, wave board, large wall decoration, advertising board, and sign production.
3) Handicraft industry: Carving on artificial stone, wood, bamboo, marble, organic board, two-color board, etc. to achieve exquisite patterns and text effects.
4) Processing materials: Engraving, milling, and cutting of acrylic, PVC, density board, artificial stone, organic glass, plastic and copper, aluminum, and other soft metal plates.
Parameter Data:
| | |
| --- | --- |
| Model Name | Nesting CNC Router FS1325D-N |
| X, Y-Axis Travel | 1300X2500mm(4X8ft), Option:1500X3000mm(5X10ft),2000X3000mm,2000X4000mm |
| Z-Axis Travel | 200mm,300mm,400mm |
| Spindle Power | 4.5KW Spindle with 24000RPM, ER20/ER25/ER32 collet. |
| Motor for X, Y, and Z | Syntec Servo motor |
| Operating System | Syntec controller |
| Drive System X, Y, and Z-axis | Helical Rack and Pinion for X and Y-Axis, High precision ball screw for the Z-axis. |
| Transmission X, Y, and Z-axis | HIWIN/THK Rail Linear guide and bearings. |
| Machine structure | Welded steel tube structure and rigid side support, aluminum T-Plate Extrusion Combined vacuum table |
| Working Voltage | 380V/50HZ/60HZ,3PH, Option: 220V/50HZ/60HZ,3PH |
| Loading Device | Auto Loading system |
| Convery off Table | Auto Convery system |
| Command Language | G Code & M Code |
| Collet | ISO30 / HSK63F, φ4,φ6,1/8,1/9 |
| Lubrication | Automatic lubrication system |
| Tool Calibration | Automatic tool sensor |
| Dust collector system | 3.0KW Dust collector system with 2 bags |
| Max. Rapid Travel Speed | 80000mm/min |
| Max. working Speed | 45000/min |
| Repeatability | +/-0.04mm/300mm |
| Working Accuracy | +/-0.03mm/300mm |
| Machining Function | 2D Machining, 2.5D Machining, 3D Machining |
| Compatible Software | Type3, Ucancam, Artcam, Alphcam, Cabinet Vision, etc. |
| Other Names | nesting CNC router, automatic nesting CNC router, CNC nesting machine, nesting CNC, furniture production line, loading and unloading wood machine, CNC automatic loading unloading router |
| Gross Weight | 3500KGS |
| Package Size | 40 GP container Shipping |

Optional Items:
C axis and a complete range of aggregates
Projects by Nesting CNC Router

Why Choose Forsun CNC Router?
Thicken weld tube machine frame for high performance and material processing.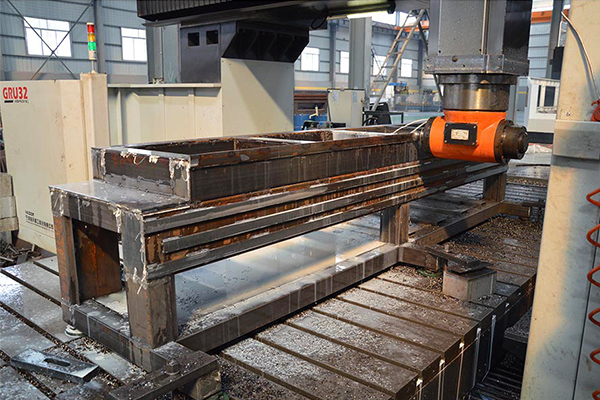 Heavy-duty frame milling and drilling by machining center to keep high accuracy.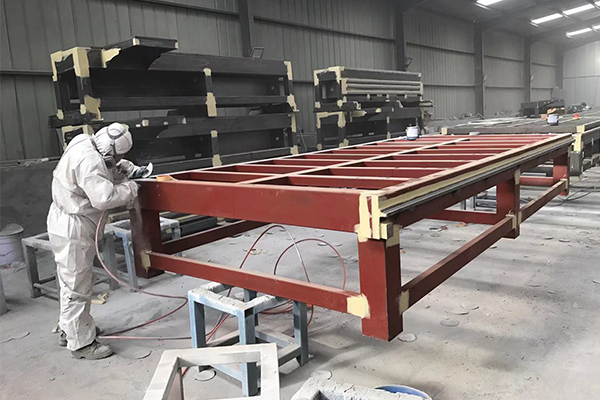 Sandy blasting putty and rusty cleaning before painting to prolong machine body use.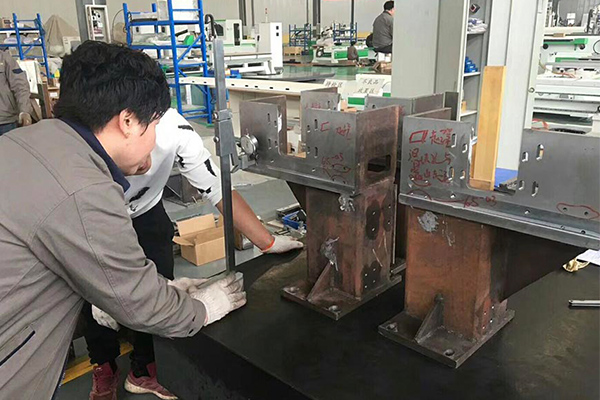 Material incoming inspection to make sure machine quality in the very beginning.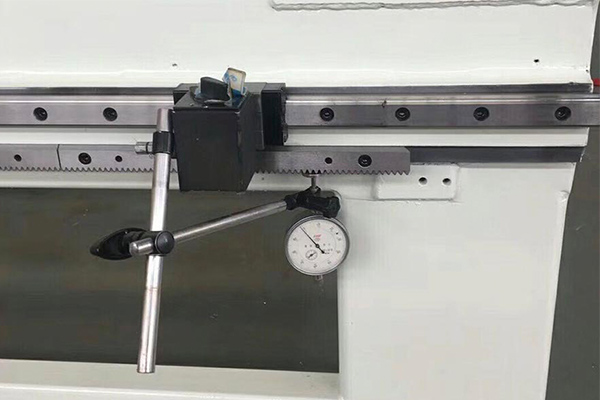 During the CNC Router installation process, precision instruments are used to ensure the accuracy of the CNC Router Machine installation.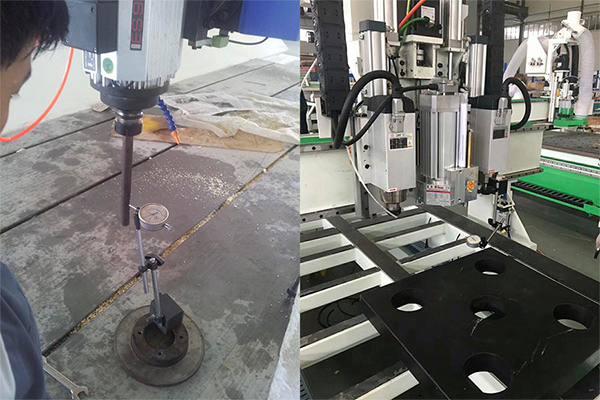 After the CNC Router is installed, use the testing instrument to test the Vertical accuracy, traveling accuracy, working accuracy, repeated positioning accuracy, etc.