Due to its efficiency and laser thinness precision, laser cutting machines have now become a standard configuration for design companies, craftsmen, production spaces, and wood processing workshops. This equipment meets the needs of those who are looking for customized products as small as jewelry, metal discs, and complex design materials. As a businessman, there are several ways to start making money with a laser cutting machine. You can develop your business by getting involved in laser cutting technology. FORSUN CNC summarized some tips and ideas on how to use a laser cutting machine to make money.
How To Make Money With Your CNC Laser Cutting Machine?
There are many ways you can make money with CNC laser machines. Here are a few thoughts we would like to share with you.
Using a laser engraving machine to make money is an easy way to start a business from scratch.
The advantage of this type of activity is the opportunity to provide potential customers with the most stable and high-quality image application of any complexity. You can mark the product at home or by renting a small office for a reasonable amount.

If you have a well-thought-out business plan, laser engraving can bring you considerable income. A great advantage is that this business does not require a lot of capital. Therefore, the initial operation should look like this:
Develop a business plan;
Monitor competitors in specific market segments;
Choice of work location;
Buy a laser machine;
An advertising campaign through which you will attract customers from all over the world.
The business plan and the purchase of the machine are the main tasks of the beginner merchant. Before you start looking for customers, you should consider what kind of service you will provide. The choice of venue and equipment directly depends on this.
What Can We Make With Laser Cutting?
You already have the software to create designs and a laser cutting machine ready to use-but what can you really do with laser cutting? FORSUN CNC provides manufacturing and prototyping services for different industries. We have helped prototype designs for medical equipment, automobiles, and gun parts, semiconductors, and electronic products.
Laser cutting is not only suitable for large-scale industries, but also for all kinds of hobbyists, artists, and manufacturers. Look at these project ideas and the materials we can use to make them a reality.

Laser cutting is not only suitable for practical products such as clocks, but also for coasters that protect the surface from scratches. This is also an ideal manufacturing technique that can create unique artworks that are not available in any standard store. After seeing these laser cutting machine projects, you can't wait to make them.
Custom coasters-coasters are a great housewarming gift, and laser-cut acrylic is a great way to make them. There is nothing more thoughtful than custom-designed and laser-cut wooden gifts according to your exact specifications. We recommend using amber bamboo or other light-colored woods.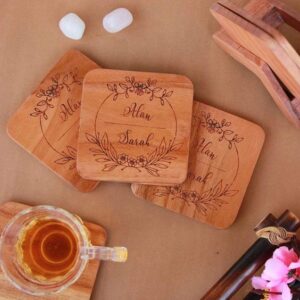 What is one of the top laser cutting machine projects made by FORSUN CNC? If you guessed the jewelry right, then you are right. From earrings, necklaces, bracelets, and rings, there are so many great design ideas, so you will see all the wooden jewelry, acrylic jewelry, and so on.
Laser-cutting metal for jewelry is the perfect way to make pendants, earrings, necklaces, brooches, and almost all other wearable metal accessories. In order to obtain a more beautiful choice, laser cutting and etching are combined to add laser drawing design to any part formed by laser cutting.
Laser cutting wedding decorations
Once your client or customer has set the date and found the venue for the ceremony and reception, you can start enjoying the fun of wedding decoration. Whether the wedding or reception is in the church hall, hotel banquet hall, garden, park, backyard, or barn, the decorations are chosen to make this happy couple unique. The laser cutter project can be styled for that beautiful day—from the initial save date announcement to the reception—plus bonus items that the bride will love.

One of the major advantages of laser cutting products is the precise and consistent cutting of fine details. The intricate design of these wooden bookmarks seems to come from a fairy tale.
Although most custom bookmarks on the market are made of wood or leather, this does not mean that other materials cannot be used. (Sounds like an opportunity for us!) Anyway, after seeing these design ideas, you may need to buy more books!
Whether it's a welcome invitation, a clear warning of impending danger, or a shining neon beacon for comfort and relaxation, signs guide our world. There are many ways to attract eyeballs from a distance. Here are some laser cutting machine projects. We found them to be particularly eye-catching in wood and acrylic.
Keychains, badges, business cards
When using laser creation, you will never be restricted by design or materials, especially when you use multifunctional materials. Laser-cut acrylic is the first choice of many manufacturers-acrylic is lightweight, very durable, and can be easily cut with precision laser cutting technology.
Design your own ultra-thin acrylic business cards with a unique look and feel, make conference badges and ID tags that will not be damaged during washing, or design custom key chains in various colors.
Metal, paper, or wooden artwork
Art can be an important supplement to the house and provide many benefits to the homeowner. Although some people are still content to get mass-produced artwork from the store, many people are attracted by the idea of getting customized artwork. This is great news for those who use laser cutting machines because they are able to create some absolutely stunning artworks.

From a small metal sculpture used as a center to a large decorative wooden board for display on the wall, it can be made with a laser cutting machine. These one-of-a-kind pieces look great in any room in your home and are incredibly thoughtful gifts for friends and family. There are no restrictions on the shapes, designs, or patterns you can display in these artworks.
Create cultural projects: Let students create cultural designs for them and laser-cut signs or flags; create multi-dimensional topographic maps; laser engrave their hand-drawn maps on wood or cardboard.
Laser-cut wooden sign sign
Instead of engraving your brand logo on souvenirs or objects, how about engraving it on the original logo? Wooden signs can be placed at the door, in front of the building, or even in the office.
Another cool idea is the wooden bathroom sign. Bathroom decoration is a surprisingly big industry, and wooden signs are a quick way to make you stand out. These signs can also be used for regular home decoration.
Now that you have all these great concepts to try, you need to find a way to ship your homemade items! Whether you want to share laser-cut items with friends or sell them to consumers, you need a good packaging method.
Packaging products, gifts, and gifts make them more attractive and image. Some companies design different packages for different purposes; laser engraving can also allow you to engrave the company's logo or the name tag of the package delivery person.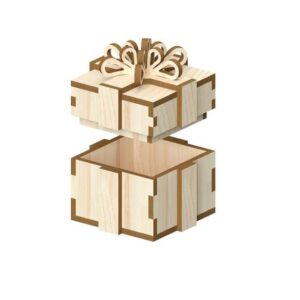 How To Choose A Laser Cutter For Beginners?
If you are a beginner and want to buy a laser machine to start your business and make money, then in addition to the above several ideas, you can also ask yourself a few questions before buying.
If you only plan to use a laser engraving machine occasionally, then buying a laser engraving machine may not be the best choice. Simply relying on professional laser engraving services to manage your project may be more cost-effective for you. With professional services, you can let the company manage your project for you, and you can be confident that it will be completed correctly. However, if you plan to use your engraving machine frequently, you must decide which one is best for the type of project you will be working on.
Is it difficult to learn and use laser engraving machines?
If you are worried about learning how to use a laser engraving machine, that shouldn't stop you from buying a laser engraving machine. You can use many different types of design software with the laser engraving machine, so you may not need to learn how to use the new design software to use the laser engraving machine. Once the system and laser engraving machine are set up, it is easy to understand how to use them.

What material do I want to engrave?
Laser engraving machines are very useful because they can engrave a variety of materials. Before choosing the laser engraving machine to buy, you should consider the different projects you will be working on and the materials to be engraved. The following are many different materials that can be engraved with a laser engraving machine.
Metal-Laser engraving on metal can be used for key chains, jewelry, gifts, designer brands, and many other applications. The engraving is precise and can be very precise. You can use HTL QT desktop laser engraving machine and CO2 laser engraving machine to engrave many different types of metals.
Plastic and rubber-The advantage of using a laser engraving machine instead of a traditional engraving machine is that you can engrave plastic very accurately without worrying about melting the plastic. The CO2 laser engraving machine is the best choice for anyone planning to engrave on plastic or rubber.
Glass or crystal-Because glass and crystal are very brittle, traditional engraving machines cannot engrave them. Using a laser engraving machine, you can get permanent and precise engraving, which is very suitable for prizes, trophies, and even wine glasses. CO2 laser engraving machine is the best choice for engraving on glass.
Paper-Cutting paper with a laser engraving machine is an excellent use for a laser engraving machine. It can be used to create invitations, artwork, and other creative uses. The laser engraving machine can be customized cutting and design.

Are there materials that should not be engraved?
Before you start sculpting, you absolutely need to understand this. You want to make sure that you don't use the laser engraving machine on anything that might damage the object you want to engrave. In addition, certain things may react with the laser, and they may be harmful to you. For example, when using a CO2 laser to cut PVC, it will produce hydrochloric acid and toxic fumes, which is dangerous to you, and more importantly, it will corrode the laser engraving machine itself. It is important to discuss this with the company where you purchased the laser engraving machine to ensure that you only engrave what is safe and best for you and the laser engraving machine.
Where should I put my laser engraving machine?
Before buying a laser engraving machine, it is best to consider where to place it. You need to ensure that your workshop or office has enough space for your laser engraving machine, and you also need to ensure that it is well ventilated. It is best to keep your laser engraving machine about one foot away from any walls or obstacles. This ensures that air can circulate through the engraving machine's fan and keep the engraving machine cool throughout the engraving process. You also need to be able to plug it into a socket that can provide the power required by the laser engraver.
Before deciding which laser engraving machine to buy, be sure to solve the above problems first, and also discuss any further issues with the company where you purchased the laser engraving machine. Discuss with the company what you plan to do with the engraving machine. They should be able to recommend and help you choose the engraving machine that best suits your needs. This will ensure that you fully understand the situation before you start using the laser engraver.

To sum up
Whether you are a hobbyist or a business owner, laser cutting allows you to create the design of your dreams, quickly improve your work, and realize the idea of making money with the laser machine. If you need high-quality laser cutting and engraving machines, please contact us and we will recommend the most suitable machine for you.