The 3-in-1 Laser Welding, Cleaning, Cutting Machine is a portable all-in-one laser system with a handheld laser gun to cut and weld metals and clean rust, paint, resin, coatings, oil, and stains.
As a laser cleaning machine, it is a "green" cleaning method. It does not require the use of any chemical reagents and cleaning solutions. The cleaned waste is basically a solid powder. It is small and easy to store and recycle. It can easily solve the problem of environmental pollution caused by chemical cleaning.
As a laser welding machine, the welding seam is flat and beautiful, with no grinding, no deformation, no welding marks, and the parts are firmly welded. Save time and increase efficiency. Welding on thin stainless steel plates, iron plates, galvanized plates and other metal materials can perfectly replace traditional argon arc welding, electric welding, and other processes. Hand-held laser welding machines can be widely used in complex and irregular welding processes in cabinets, kitchens, stairs, elevators, clothes hangers, ovens, stainless steel doors, window guardrails, power distribution boxes, stainless steel homes, and other industries.
As a laser cutting machine, it is very easy to operate for cutting all kinds of metals.
Applicable Materials of Fiber Laser Welding Machine
Can weld a variety of metals, including stainless steel, carbon steel, copper, aluminum, galvanized sheet, etc. Widely used in aerospace, machinery, electronics, communications, power, chemical, automobile manufacturing, and other industries.
Applicable Industry of Handheld Fiber Laser Cutting Welding Cleaning Machine
The laser welding torch is a portable laser welding machine, which can weld various metals or alloys such as aluminum, stainless steel, titanium, gold, silver, copper, nickel, chromium, etc., and can also be applied to various welding between different metals. Seam metals such as titanium-gold, copper-brass, nickel-copper, titanium-molybdenum, etc.
The laser cleaning gun is a portable laser cleaning machine that can remove rust, resin, coating, oil stains, paint, and dirt for surface treatment by hobbyists and industrial manufacturers, which can effectively reduce machine maintenance costs and improve industrial productivity. cleaning effect.
Equipped with a laser cutting gun, it is a portable handheld laser cutting machine suitable for all kinds of metal cutting.

Machine Pictures of

Handheld Laser Cutting Welding Cleaning Machine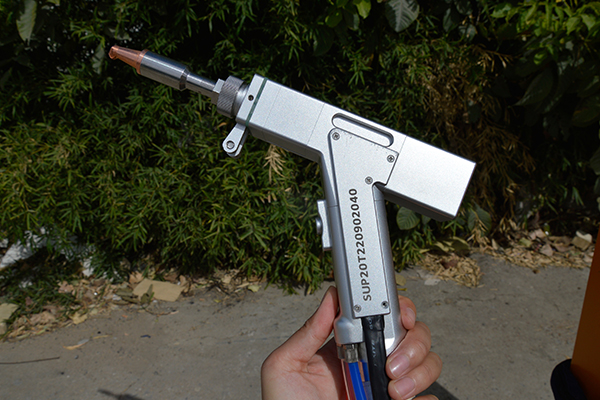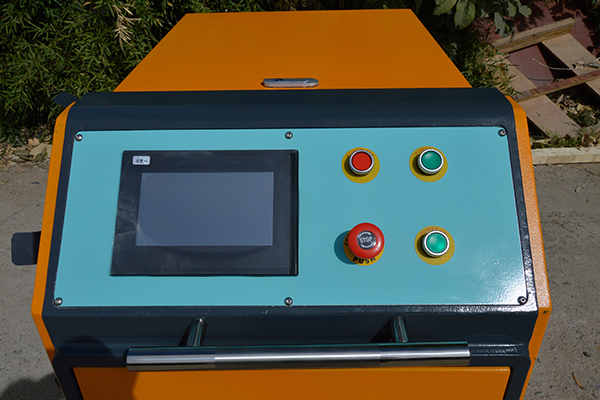 Handheld Laser Welding Machine Video
Parameter Data of Handheld Fiber Laser Welding Machine
| | |
| --- | --- |
| Technical Index | Parameters |
| Model name | FS-1000W |
| Laser source model | MAX |
| Laser source power | 1000W |
| Laser source wavelength | 1080m |
| Laser source frequency | 50-20000Hz adjustable |
| Controller | Qilin Brand |
| Welding head | Qilin Laser Head |
| Cooling Mode | Water cooling |
| Water chiller | 2P ,built-in chiller |
| Adjusted spot range | 0.1-3mm |
| Minimum Welding pool |  0.1mm |
| Gas source | 0.2Mpa (Argon ) |
| Working Voltage | AC220V / 50Hz / 60HZ |
Welding Ability of Portable Laser Welding Machine
Material
Max welding dept
Machine Power
1kw
1.5kw
2kw
Stainless Steel
≤2mm
≤3mm
≤5mm
Mild Steel /Iron
≤3mm
≤4mm
≤6mm
Aluminum / Brass
≤2mm
≤3mm
≤4mm
The machinable thickness of 1KW & 1.5KW laser welding machine
| | | | | |
| --- | --- | --- | --- | --- |
| Item | Material | Output power(W) | Speed(m/min) | Welding depth(mm) |
| 1 | Carbon steel | 1000 | 1 | 2.06 |
| 2 | Carbon steel | 1000 | 1 | 1.81 |
| 3 | Carbon steel | 1000 | 3 | 1.52 |
| 4 | Carbon steel | 1000 | 4 | 1.33 |
| 5 | Carbon steel | 1000 | 5 | 0.01 |
| 6 | Carbon steel | 1000 | 6 | 0.93 |
| 7 | Carbon steel | 1000 | 7 | 0.71 |
| 8 | Carbon steel | 1000 | 8 | 0.66 |
| 9 | Carbon steel | 1000 | 9 | 0.58 |
| 10 | Carbon steel | 1000 | 10 | 0.49 |
| 11 | Stainless steel | 1000 | 1 | 2.68 |
| 12 | Stainless steel | 1000 | 2 | 2.33 |
| 13 | Stainless steel | 1000 | 3 | 1.95 |
| 14 | Stainless steel | 1000 | 4 | 1.67 |
| 15 | Stainless steel | 1000 | 5 | 1.33 |
| 16 | Stainless steel | 1000 | 6 | 1.14 |
| 17 | Stainless steel | 1000 | 7 | 0.96 |
| 18 | Stainless steel | 1000 | 8 | 0.87 |
| 19 | Stainless steel | 1000 | 9 | 0.72 |
| 20 | Stainless steel | 1000 | 10 | 0.58 |
| 21 | Pure aluminum | 1000 | 5 | 1 |
| 22 | Pure aluminum | 1000 | 0.8 | 1 |
| | | | | |
| --- | --- | --- | --- | --- |
| Item | Material | Output power(W) | Speed(m/min) | Welding depth(mm) |
| 1 | Carbon steel | 1500 | 1 | 2.77 |
| 2 | Carbon steel | 1500 | 2 | 2.43 |
| 3 | Carbon steel | 1500 | 3 | 2.08 |
| 4 | Carbon steel | 1500 | 4 | 1.89 |
| 5 | Carbon steel | 1500 | 5 | 1.71 |
| 6 | Carbon steel | 1500 | 6 | 1.54 |
| 7 | Carbon steel | 1500 | 7 | 1.39 |
| 8 | Carbon steel | 1500 | 8 | 1.1 |
| 9 | Carbon steel | 1500 | 9 | 0.98 |
| 10 | Carbon steel | 1500 | 10 | 0.79 |
| 11 | Stainless steel | 1500 | 1 | 3.59 |
| 12 | Stainless steel | 1500 | 2 | 3.03 |
| 13 | Stainless steel | 1500 | 3 | 2.75 |
| 14 | Stainless steel | 1500 | 4 | 2.39 |
| 15 | Stainless steel | 1500 | 5 | 2.11 |
| 16 | Stainless steel | 1500 | 6 | 1.74 |
| 17 | Stainless steel | 1500 | 7 | 1.53 |
| 18 | Stainless steel | 1500 | 8 | 1.29 |
| 19 | Stainless steel | 1500 | 9 | 1.03 |
| 20 | Stainless steel | 1500 | 10 | 0.88 |
| 21 | Pure aluminum | 1500 | 7 | 1 |
| 22 | Pure aluminum | 1500 | 3 | 2 |
| 23 | Pure aluminum | 1500 | 0.5 | 3 |
| 24 | Copper | 1500 | 0.8 | 0.2 |

Handheld Fiber Laser Welding Machine Projects